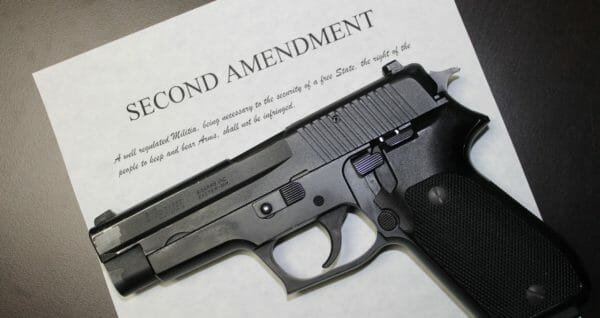 U.S.A. –-(AmmoLand.com)- Gun rights organizations are celebrating a double victory in California, where a three-judge panel ruled that COVID-19 shutdowns of gun stores and shooting ranges in Los Angeles and Ventura counties in 2020 were unconstitutional under the Second Amendment.
Claiming victory are the Second Amendment Foundation, National Rifle Association, California Gun Rights Foundation, and Firearms Policy Coalition plus individual citizens in both cases. Both rulings were unanimous. In the McDougall case, SAF, CGRF and FPC collaborated. NRA joined the other groups in the Los Angeles County/Martinez case.
Writing for the court, Judge Lawrence VanDyke observed:
"(F)rom March 20 to May 7, 2020—a total of 48 days—the Orders mandated the closure of gun shops, ammunition shops, and firing ranges throughout the County to the general public, including Appellants. The closure prohibited County residents from leaving their homes to acquire any firearms or ammunition and maintain proficiency in the use of firearms at firing ranges…The County never explained its rationale behind the designations of businesses and activities deemed 'Essential.' The Orders therefore denied anyone who did not possess both a firearm and ammunition on March 19, 2020, from exercising their fundamental rights protected by the Second Amendment until at least May 7."
In his concurring opinion in the McDougall case, Judge Andrew Kleinfeld wrote, 'Neither pandemic nor even war wipes away the Constitution.'"
The Second Amendment has applied to the states via the 14th Amendment ever since the June 2010 Supreme Court decision in McDonald v. City of Chicago, a case brought by SAF and the Illinois State Rifle Association.
Early in the pandemic, officials in Ventura and Los Angeles counties ordered shutdowns to include gun ranges and gun stores. In the Ventura County case, the shutdown extended from March 20 to May 7—a period of 48 days—during which other businesses were allowed to operate.
"When COVID hit, Ventura County, California issued a series of public health orders (collectively, Orders) that mandated a 48-day closure of gun shops, ammunition shops, and firing ranges," Judge VanDyke recalled in his 39-page primary opinion. "They did this while allowing other businesses like bike shops to remain open. The Orders also prohibited everyone from leaving their homes other than for preapproved reasons, which did not include traveling to gun or ammunition shops or firing ranges outside the County.

"The Orders therefore wholly prevented law-abiding citizens in the County from realizing their right to keep and bear arms," VanDyke added, "both by prohibiting access to acquiring any firearm and ammunition, and barring practice at firing ranges with any firearms already owned. These blanket prohibitions on access and practice clearly burden conduct protected by the Second Amendment and fail under both strict and intermediate scrutiny."
Alan Gottlieb, SAF founder and executive vice president, carefully read the McDougall ruling before making a blistering observation.
"Both cases illustrate the egregious pattern of anti-gun sentiment among California officials," Gottlieb said. "Officials in both counties offered no explanation or justification for shutting down gun stores and shooting ranges, while allowing hardware stores or bicycle shops to remain open. Neither hardware or bicycles are mentioned in the Constitution, but firearms certainly are protected, and everybody knows it."
Stunningly, Judge VanDyke—a Trump appointee—issued a concurring opinion to his own ruling in which he took a swipe at the Ninth Circuit Court.
"I'm not a prophet," VanDyke wrote on Page 46 of the ruling, "but since this panel just enforced the Second Amendment, and this is the Ninth Circuit, this ruling will almost certainly face an en banc challenge. This prediction follows from the fact that this is always what happens when a three-judge panel upholds the Second Amendment in this circuit…Our circuit has ruled on dozens of Second Amendment cases, and without fail has ultimately blessed every gun regulation challenged, so we shouldn't expect anything less here."
Perhaps with some degree of sarcasm, Judge VanDyke then explains, "Since our court's Second Amendment intermediate scrutiny standard can reach any result one desires, I figure there is no reason why I shouldn't write an alternative draft opinion that will apply our test in a way more to the liking of the majority of our court. That way I can demonstrate just how easy it is to reach any desired conclusion under our current framework, and the majority of our court can get a jump-start on calling this case en banc. Sort of a win-win for everyone."
Then he launches a 12-page alternate ruling upholding the shutdowns, at the end of which he inserts, "You're welcome."
Gottlieb says he agrees with Judge VanDyke's prediction about an en banc hearing, adding, "These cases highlight the pattern of abuses California officials routinely direct toward the Second Amendment… and we're prepared to fight that battle, all the way to the U.S. Supreme Court."
As if to amplify Gottlieb's observation, Judge VanDyke wrote, "But the Orders at issue here prevented County residents who owned no firearm at all before March 20, 2020, from obtaining any firearm whatsoever for effectively two months, right in the middle of a global crisis. Denying the ability to acquire a firearm and ammunition at all is fundamentally different from waiting a short time to receive an additional firearm. There is a very real difference between a short, defined waiting period to purchase an additional firearm, versus a two- month ban on purchasing any firearm, ammunition, or otherwise exercising your Second Amendment rights."
Judge VanDyke may have summed the cases up nicely when, on Page 32 of the McDougall ruling, he observed, "The acute need for Second Amendment rights during temporary crises was well-understood by our Founders…Modern society agrees, as firearm and ammunition sales have soared during the recent pandemic. But if the government suspends these rights during times of crises, the Second Amendment itself becomes meaningless when it is needed most—especially to the victims of attacks."
---
About Dave Workman
Dave Workman is a senior editor at TheGunMag.com and Liberty Park Press, author of multiple books on the Right to Keep & Bear Arms, and formerly an NRA-certified firearms instructor.