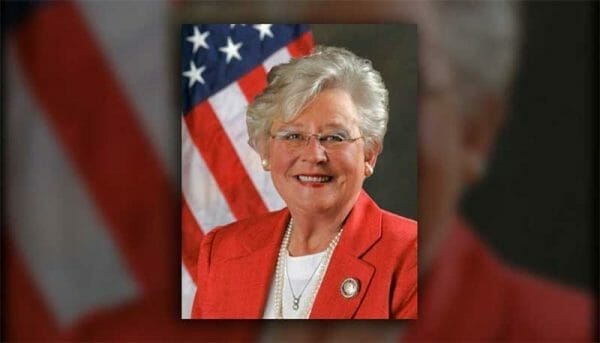 U.S.A. –-(AmmoLand.com)-— On March 10, 2022, one hour after the Alabama legislature sent her House Bill 272, Governor Kay Ivey signed Constitutional Carry into law.
The bill will become effective on January 1, 2023. Alabama has joined 21 other states in the Constitutional Carry club, increasing the number to 22.
MONTGOMERY – Governor Kay Ivey on Thursday signed House Bill 272, known as the constitutional carry bill, into law, defending law abiding Alabamians' Second Amendment rights.

"Unlike states who are doing everything in their power to make it harder for law abiding citizens, Alabama is reaffirming our commitment to defending our Second Amendment rights," said Governor Ivey. "I have always stood up for the rights of law abiding gunowners, and I am proud to do that again today."

HB272, sponsored by Rep. Shane Stringer (R – HD102), revises certain restrictions regarding the carrying or possession of a pistol and eliminates the requirement to obtain a pistol permit in order to carry a concealed pistol.
Alabama Rep. Shane Stringer R
Representative Shane Stringer has worked for years to obtain the passage of Constitutional Carry. For Stringer, it is a matter of principle. He has suffered for his principles.  On May 14, 2021, Shane Stringer was fired from his position as a Captain in the Mobile County Sheriff's department, because of his support for Constitutional Carry as a State representative.
From a previous AmmoLand News article:
From Representative Shane Stringer's press release (for those who have difficulty reading the image):
State Rep. Shane Stringer (R – Mobile) said on Friday that he is proud to stand in defense of the Second Amendment gun rights of Alabamians despite being fired by Mobile Sheriff Sam Cochran for his position on the issue,"

(snip)

"The U.S. Constitution does not say you have a right to keep and bear arms as long as you pay what amounts to a gun tax in the form of permit fees," Stringer said. "It says you have the right to keep and carry firearms… period."

Stringer said that despite Cochran's action, he remains committed to his legislation and to the Alabama law enforcement community.


 "As a state legislator, I swore an oath to God that I would support the U.S. Constitution, and this legislation does just that," Stringer said. "And whether or not I am employed by the Mobile Sheriff's Office, my heart and soul will always belong to the mission of enforcing the law and to my fellow officers who seek to protect the men, women, and children of Alabama."
It is principled Representatives and peace officers such as Shane Stringer, joined with millions of Second Amendment activists, which have increased the number of Constitutional Carry states from only Vermont, in 2002 (Vermont had Constitutional Carry since the Second Amendment was ratified in 1791) to include Alaska in 2003, and Arizona in 2010.
From 2011 to the present, 19 more states have joined the Constitutional Carry club, making 22 in total.
The number is increasing rapidly. It is likely to include Ohio and Indiana by the end of March, becoming 24 states.
Georgia is looking as an excellent candidate to join the club next. The legislation has passed the Senate, a similar bill has passed the House committee. Governor Kemp is pushing hard to pass a Constitutional Carry bill before the primary as he needs a win, to distract from the 2020 election disaster that is still unfolding in GA.
---
About Dean Weingarten:
Dean Weingarten has been a peace officer, a military officer, was on the University of Wisconsin Pistol Team for four years, and was first certified to teach firearms safety in 1973. He taught the Arizona concealed carry course for fifteen years until the goal of Constitutional Carry was attained. He has degrees in meteorology and mining engineering, and retired from the Department of Defense after a 30 year career in Army Research, Development, Testing, and Evaluation.