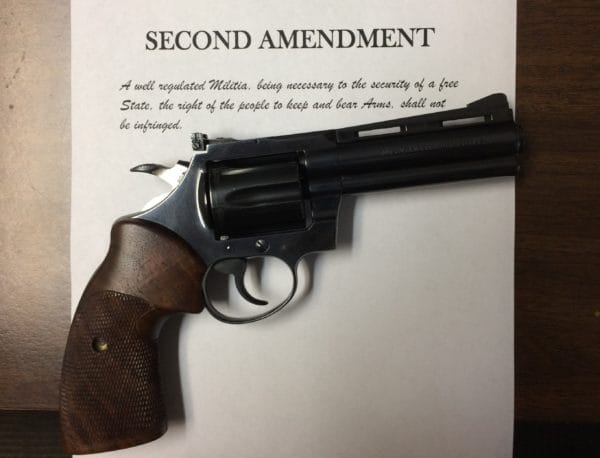 U.S.A. –-(AmmoLand.com)- The executive director of the anti-gun Giffords Law Center to Prevent Gun Violence has accused gun rights advocates of being "deeply irresponsible" for contending the Ukraine crisis provides strong evidence of the Second Amendment's importance to liberty.
According to Reuters, Giffords executive Peter Ambler blasted what he calls the "more guns everywhere" advocacy. It is the same sort of inflammatory remark often used by the gun prohibition lobby to essentially demonize Second Amendment organizations, and it is simply not true.
No Second Amendment rights group has ever advocated for "guns everywhere," and the gun ban lobby knows it. It is a myth perpetuated by anti-gunners to demonize guns and people who own them.
The National Rifle Association stated in a blog post, "What is happening in Ukraine proves the wisdom of our founding fathers in drafting the Second Amendment. They wanted to make sure the American people would never be subjugated. The Second Amendment at its core is, and has always been, about preserving human dignity, self-destiny and freedom."
The Citizens Committee for the Right to Keep and Bear Arms declared, "The…invasion of Ukraine by Russian troops underscores the importance of the Second Amendment to the defense of freedom in the United States."
The gun prohibition lobby detests such common sense observations because they remind U.S. citizens this nation stands uniquely apart from the rest of the world in not only recognizing the right of the people resist tyranny but constitutionally protects the means with which to make that possible.
Ambler's sentiments were on full display when Reuters quoted him observing, "The tyrannical actions of Vladimir Putin don't erase the fact that 45,000 Americans died from gun violence in 2020, nor do they erase the urgent need for commonsense, popular gun violence prevention policies like background checks and funding for community violence intervention programs."
Everytown for Gun Safety, the Michael Bloomberg-backed gun prohibition lobbying group, may be trying to change the subject by demanding passage of a bill in Washington State that would require public schools to advise parents about the state's "secure storage law."
At no time has Everytown or its allies at the Seattle-based Alliance for Gun Responsibility—another billionaire-backed gun prohibition group—supported the notion of teaching firearms safety to school students as part of the public school curriculum to prevent accidents.
Of course, the safe storage measure has nothing to do with the Ukraine invasion. In that southeast European nation, instead of requiring people to lock up guns, the government has been issuing firearms and ammunition to Ukrainian citizens to fight back against the Russian invaders, and they apparently haven't bothered with background checks in the process. All that is required is a willingness to fight. This crisis, say Second Amendment groups, underscores the importance of an armed citizenry, a notion the gun control lobby simply cannot tolerate, and does not want the public to hear.
Ambler and other anti-gunners have more than just two leading gun rights organizations focusing on Ukraine and the right to keep and bear arms.
Congressman Greg Murphy (R-NC) said in a tweet, "Thank God the people in the Ukraine have to the right to take up and bear arms against their aggressor. Thank God in the US we have the #2A. #NRA" Murphy, an MD, represents the state's Third Congressional District.
Thank God the people in the Ukraine have to the right to take up and bear arms against their aggressor. Thank God in the US we have the #2A. #NRA

— Congressman Greg Murphy, M.D. (@RepGregMurphy) February 27, 2022
Reuters also reported that Zach Nunn, an Iowa Republican congressional candidate, said the crisis demonstrates the importance of private gun ownership.
"In Ukraine today I would offer that a lot of people are waking up and saying that this is not only the best way to protect their country but to preserve what they hold dear in a democracy," Nunn reportedly said in a Tuesday interview
What seems to be pushing anti-gunners over the edge is the statement from NRA noting, "it will now be up to Ukrainians themselves to make their stand, as the invasion moves from military and infrastructure targets to city centers. And many ordinary citizens are preparing to do just that, including with privately owned and government-supplied firearms.
"This collective defense is now fully backed by the Ukrainian government," NRA's statement continued. "President Volodymyr Zelensky pledged last Thursday to provide armaments to anyone who wanted to resist the Russian invasion. "We will give weapons to anyone who wants to defend the country," he said in a tweet. "Be ready to support Ukraine in the squares of our cities."
CCRKBA's statement on Ukraine was previously reported by AmmoLand.
It is interesting to note statements from the gun ban lobby in the wake of Joe Biden's State of the Union address, in which he waited until near the end to reiterate his devotion to gun control. The White House has issued a lengthy document quoting various gun prohibition groups:
John Feinblatt, President, Everytown for Gun Safety: "During his first year in office, President Biden has led the strongest gun safety administration we've seen, and this speech is further proof that he remains fully committed to keeping Americans safe from gun violence. Going forward, there are more critical steps the administration and Congress can take to save lives — including revitalizing ATF, using executive powers to crack down on unlicensed gun sellers, and strengthening background checks — and we look forward to working with them every step of the way."
Shannon Watts, Founder, Moms Demand Action: "President Biden showed the leadership we need to unify our country and save lives. As a candidate, Joe Biden ran on the strongest gun safety platform in history and his Administration continues to follow through on that promise. While there's always more to be done to end the gun violence epidemic in this country, including through congressional action, our grassroots army of volunteers continues to stand proudly in support of President Biden."
Kris Brown, President, Brady: "We are heartened by President Biden's words tonight, but we need continued and increased action and attention to ending America's gun violence crisis. President Biden has already taken extensive and historic action, but he cannot let up. He also cannot solve this problem alone. His calls for legislative fixes such as universal background checks, banning assault weapons and high-capacity magazines, and repealing PLCAA, the liability shield for gun manufacturers, are common-sense and will save lives."
Combined with Ambler's remarks, the firearms community could easily conclude these organizations give their agenda of citizen disarmament a far higher priority than constitutional rights, and they will never acknowledge the importance of the Second Amendment to national defense, much less personal protection.
RELATED:
---
About Dave Workman
Dave Workman is a senior editor at TheGunMag.com and Liberty Park Press, author of multiple books on the Right to Keep & Bear Arms, and formerly an NRA-certified firearms instructor.