U.S.A. –-(AmmoLand.com)-— On Monday, January 16, 2023, Industry day at the range started with cool temperatures, gusty wind, and rain showers.
It was the worst condition at the range day since 2019. The day gives media and industry insiders a chance to look at new products at the range, shoot new guns, ammunition, and accessories, and talk with industry representatives as they showcase their products.
Pre checking the weather forecast, this correspondent was prepared with warm, weather-resistant clothes, high-tech hunting pants, work boots, and layered wind and water-resistant jacket with a fleece underneath.
Some new products caught the eye, out of dozens of booths. Ear and eye protection were mandatory. RIA (Rock Island Armory, USA) has a new semi-auto 9mm, mostly handmade, with an innovative locking system. The RIA 50 is made entirely in the USA at the new manufacturing plant in Utah.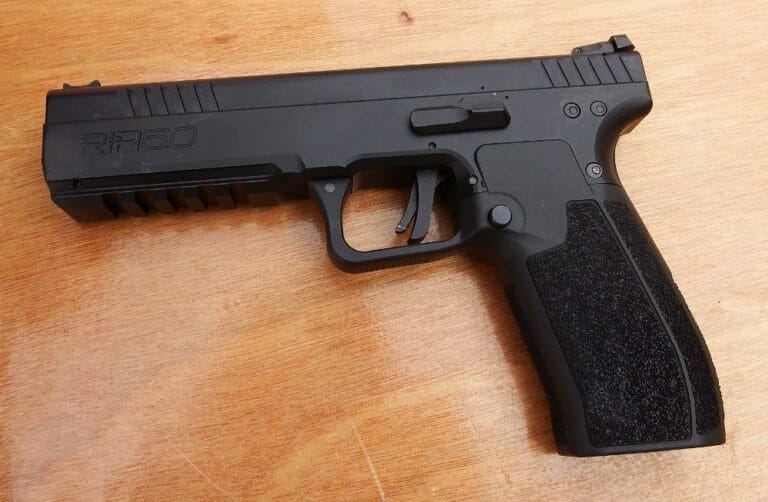 Kel-Tec will soon be offering a slide that is optics capable for their popular P17 .22 LR pistol. It is an option this correspondent thought a natural for years. To lighten the slide to accept the optic, KELTEC is laser cut into the slide. The slide is easily replaced on existing Kel Tec P17 pistols for those who have desired an optical sight on the popular little pistol.
The new product is likely to be a hit. Kel-Tec P17 pistols have been hard to come by for three years. Kel Tec will offer a carbine version of their 5.7 caliber P50 pistol.  The carbine was available at the range. Attendees were firing the carbine with a suppressor attached to the muzzle of a 16-inch barrel. The report had a supersonic snap, which wasn't very loud. On an open range, with significant wind, the noise reports are naturally diminished.
The Kel-Tec P17 pistol, even with a suppressor, is so light the representatives had covered it up to keep it from blowing off the table.
The wind picked up as the day went on. By noon, displays were being blown off of tables. Business cards were blown down range. The conversation became occasionally tricky.
Browning ammunition and the Winchester booth were both coming out with a new subsonic, 45-grain .22 LR designed to be subsonic out of pistols. It produces about 100 foot-pounds of energy at 1060 fps. It will likely go supersonic out of rifles. It will be sold in 100 round boxes. This correspondent looks forward to trying some once it becomes available.
Industry representatives were in good humor. Range noises varied from full auto to whisper quiet .22 suppressors with subsonic ammunition.
The conditions were less than ideal, but many innovative products were on display.  This correspondent noticed on suppressor exhibitor was using CCI Quiet .22 with his suppressor on a Ruger full sized .22 pistol. The subsonic round is especially quiet to start; it did not seem much of a challenge to have a very quiet report shooting it through any suppressor.
Several different exhibitors were showing their wares with suppressed firearms. Suppressed firearms are the wave of the future.
Industry day at the range shows Shot Show is rebounding nicely from the Covid confusion. Exhibitors and Media had a good time in spite of the weather.
---
About Dean Weingarten:
Dean Weingarten has been a peace officer, a military officer, was on the University of Wisconsin Pistol Team for four years, and was first certified to teach firearms safety in 1973. He taught the Arizona concealed carry course for fifteen years until the goal of Constitutional Carry was attained. He has degrees in meteorology and mining engineering, and retired from the Department of Defense after a 30 year career in Army Research, Development, Testing, and Evaluation.