Is the Coonan 45 ACP 1911 pistol a real innovation of the classic 1911 pistol? Mike thinks so…
USA –  -(Ammoland.com)- Coonan  (www.coonaninc.com) firearms became famous for two very different firearms: Their FAL receivers and their 357 Magnum semiauto pistol.
Recently they rolled out a 1911 variant in 45 ACP that may represent the most significant design changes to a factory pistol since the Series 80 firing pin safety.
A Little Coonan Arms History
Dan Coonan designed a 1911 style handgun to chamber the 357 Magnum round while he was still a college student in the 1970s. The Coonan 357 enjoyed an almost two decade run, until the company producing it went out of business in 1998.
The 1990s were a tough decade for firearms enthusiasts and with advances in ammunition engineering and firearms manufacturing, the idea of a semiautomatic pistol chambered in 357 Magnum was relegated to range toy status by many shooters.

Coonan reintroduced the 357 Classic pistol in 2000 and they were kind enough to send us a test pistol for review a few years ago for another publication.
As impressed as we were with the Coonan Classic, we did mention to the powers that be, that they should start making a 1911 in 45 ACP as the improvements that Coonan made to the design were that good.
Coonan 45 ACP – The Pistol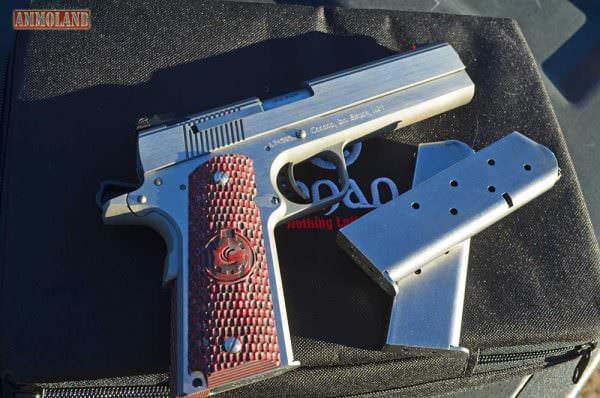 At SHOT 2016, we got to see a few prototypes and could not wait to get a finished pistol on the range. It took 9 months, but we grabbed one of the first of these beauties to roll off the line.
The Coonan 45 ACP 1911 is based not so much based on the original 1911, but rather as a 45 ACP version of the Coonan Classic in 357 Magnum but most parts will interchange with the legacy 1911.
It does borrow a few notes from John Browning's later design, the Browning Hi-Power by utilizing a link-less barrel and a pivoting type of trigger. The extractor is external and while purists of the 1911 may howl at that one, it really is superior to the original.
Also, the dust cover runs the full length of the slide. This makes for a very impressive looking pistol.
Coonan 45 ACP – The good
Fit and finish was stellar, with a stainless steel slide and frame. Grips and flat mainspring housing were an attractive reddish G-10 that fit the hand well.
Sights are three-dot fiber optic, the profile of the rear resembles a Novak cut and if you want to go with tritium sights or something else, they should swap out with little to no fitting. We have grown fond of these sights for shooting outdoors as well as at night time when a hand held or weapon mounted light really lights them up. In the day time the sun does an excellent job of lighting them up for fast target acquisition.
The full length dust cover is a stroke of genius in that its weight soaks up much of the pistol's recoil. It really adds to the good looks of this pistol.
Shooting the Coonan 45 felt more like shooting a Hi-Power chambered in 45 ACP as opposed to a 1911. It broke at 4.5 pounds and had an amazingly short reset.
Using Freedom Munitions 230 grain FMJ we averaged 1.75" groups at 25 feet with all rounds touching in a tight group.
Coonan 45 ACP – The Bad
While we are fans of the full length dust cover, it does add a bit of weight to the pistol and can make finding a holster somewhat problematic. Our only other criticism is that while it may be a winner in the looks department and aid in recoil reduction, it has no provision for mounting a weapon light.
The link-less barrel worked fine, but we imagine finding a suitable threaded aftermarket barrel will be an expensive proposition. The same could be said for the external extractor, yet in our experience we have never had to replace one of those on any of our 1911s that use them.
If you want a holster, at this point in time you will need to go the custom route. We have a nice collection of factory and custom 1911 holsters from over three decades of shooting this pistol amd always owning at least five and none of our holsters would fit.
Coonan Arms 45 ACP – The Reality
All in all, we found this to be a mild shooting 1911 with tremendous accuracy potential. We passed it around to some bonafide 1911-haters at the range, but every one of them said some form of, "I don't usually like 1911s, but I like this one."
Some firearms are classics and the testament to that is to see how long they last in their final form. Even if they evolve or influence later models, if there is still a demand for them as they were made 100 years ago, the design has to be a winner.
Coonan took a classic design and really improved upon it in some ways that are significant beyond better materials, metallurgy or manufacturing.
Hopefully they will continue to push the envelope and we could see a 7" long slide with full length dust cover, threaded barrels and most importantly rails.
For additional information on the Coonan .45 ACP 1911 Pistol, please visit www.coonaninc.com/product/.45-ACP
Coonan .45 ACP 1911 Pistol
Caliber: .45 ACP
Barrel Length: 5.0″ (4340 Carbon Steel W/Hard Chrome Plate)
Construction: 17-4 PH Stainless Steel
Overall Length: 8.4 Inches
Height: 5.3"
Width: 1.3"
Weight: 40.0oz empty/ 45.2oz Loaded
Trigger: Pivoting; 4-4.5lb, pull
Magazine Capacity: 7 Rounds
Sights: Novak Style Rear, Blade Front
MSRP: $ 1,375.00
Learn more at www.coonaninc.com/
About Mike Searson
Mike Searson's career as a shooter began as a Marine Rifleman at age 17. He has worked in the firearms industry his entire adult life as a Gunsmith, Ballistician, Consultant, Salesman, Author and was first certified to teach firearms safety in 1989.
Mike has written over 2000 articles for a number of magazines, websites and newsletters including Blade, RECOIL, OFF-GRID, Tactical Officer, SWAT, Tactical World, Gun Digest, Examiner.com and the US Concealed Carry Association as well as AmmoLand Shooting Sports News.
Home page: www.mikesearson.com
FB: www.facebook.com/mike.searson
TWITTER: www.twitter.com/mikesearson