Complete AR -15 Tool Kits To Service & Repair Military & Civilian AR-15/M16 Rifles & M4 Carbines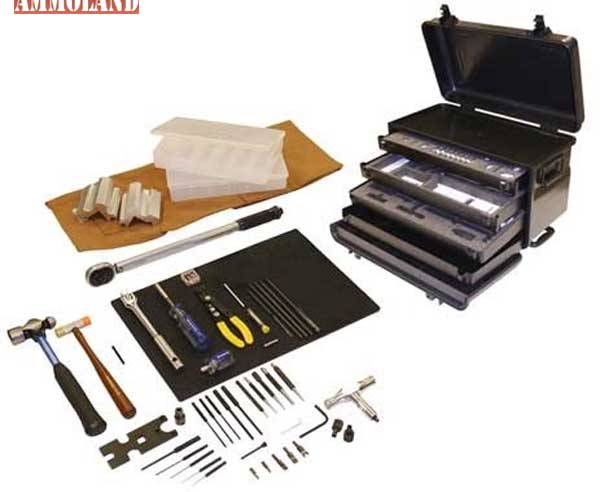 MONTEZUMA, Iowa –-(Ammoland.com)- The RIGHT way to repair and service the AR-15, M16 or M4 rifle is with the correct tools.
Brownells AR15 Tool kits contain the tools the gunsmith or armorer needs to perform full maintenance and repairs of these rifles in the field or shop.
Each tool is designed to do its job in the simplest, most effective manner to maintain and repair these guns correctly – and save time doing it.
Standard Kit contains the tools needed to work on the AR-15 and the M16A1 through A4.
Premium Kit contains all the tools of the Standard Kit, plus an additional 11 items necessary to repair and maintain the M4 carbine as well.
Both kits come in a custom-fitted, hard-side tool box that's made from nearly indestructible molded polymer resin and meets mil-spec MIL-C-4150 and ATA specifications. The Standard kit's foam inserts are pre-cut with spaces for the M4 tools, so you can turn it into a Premium Kit anytime simply by adding the Upgrade Kit.
Brownells AR-15 Tool Kit: The Premium Kit Includes all of the following:
1 – 12 OUNCE BALLPEEN HAMMER – Heavy enough to drive out stubborn tapered front sight retaining pins, yet light enough for installation/removal of solid and roll pins. SPECS: 12-1/4″ (31.1cm) long overall. 1 lb. (454 g), 6 oz. (170 g) total. Head is 3-3/4″ (9.5cm) long. 1-3/16″ (3cm) diameter flat face. 1″ (2.5cm) diameter peen.

2 – 3/4″ PLASTIC/BRASS HAMMER – For the thousand and one instances when a part needs a gentle tap during assembly/disassembly. Great when fitting stocks. SPECS: 3/4″ (19mm) diameter faces. 10″ (25.4cm) hickory handle. Weighs approximately 4 oz. (113 g).

3 – FIRING PIN PROTRUSION GAUGE – Essential for properly measuring the amount of the firing pin projecting through the bolt. Too little causes misfires; too much, pierced primers. SPECS: Steel. 2″ (5.1cm) long, 1/4″ (6.3mm) wide.

Firing Pin Protrusion Gauge

4 – 1/2″ SQUARE DRIVE TORQUE WRENCH – Necessary to apply the manufacturer's recommended 30 foot pounds of torque to the barrel nut when installing barrel on receiver. Self-limiting design "clicks" at torque setting. SPECS: Chrome-plated steel. 17-1/8″ (43.5cm) long. 1″ (2.5cm) diameter handle. 30-150 ft. lb. range.

5 – BROWNELLS SHOP APRON – High quality, durable apron keeps clothing clean and free of grease, oil, and carbon. SPECS: 39-1/2″ (100.3cm) long. 30-1/2″ (77.5cm) wide. Upper and lower pockets. Ties: each 27-1/2″ (69.8cm) long. Neck strap: 21-1/2″ (55.2cm) long.

6 – VISE JAWS – The ONLY way to hold a barrel without damage. Non-marring aluminum with milled grooves to accept both standard or heavy barrels. Standard kit only. Replaced by #36 in Premuim Kit. SPECS: 3-5/8″ (9.2cm) L, 2-1/4″ (5.7cm) W, 2-7/8″ (7.3cm) H. 2 lb. (907 g), 5 oz. (142 g). Cast Aluminum.

7 – PARTS BOXES – A durable, break-resistant container for parts, smaller tools, and other loose items. Kit includes two boxes; replacement boxes sold per each. SPECS: 11″ (27.9cm) L x 6-3/4″ (17.1cm) W. 6 compartments.

8 – BROWNELLS BENCH MAT – Neoprene rubber mat provides a smooth, non-marring, oil-and solvent resistant work surface no matter where you are. SPECS: 17-1/2″ (44.4cm) long. 12″ (30.5cm) wide. 3/16″ (4.7mm) thick.

9 – 10-1/2″ LONG, 1/2″ SQUARE DRIVE HANDLE – Use with AR-15/M16 Combination Wrench to loosen the barrel nut and remove barrel. Long enough to provide ample leverage. SPECS: Chrome-plated steel. 10-1/2″ (26.7cm) long. 13/16″ (20.6mm) diameter handle.

10 – MAGNA-TIP® #81 HANDLE – Preferred by many for general use, shank is long enough to reach inside the pistol grip. Use with Stubby Handle to remove Pivot Pin. SPECS: Overall length 8″ (20.3cm).

11 – MAGNA-TIP STUBBY HANDLE – Use with various MAGNA-TIP® bits on butt plate screws, windage screw, AR-15 pivot pin head, etc. When removing the pivot pin, use Stubby Handle with the "RED" bit on the left side of the pin and the regular handle with the 445-6 bit on the right side. SPECS: 2-1/2″ (6.3cm) overall. 1-7/8″ (4.8cm) handle, 51/8″ (15.9mm) shank.

12 – SNAP RING PLIERS – For removal and installation of the handguard snap ring. Extra tips included for other uses. SPECS: Blued steel with vinyl dipped handles. Tip sizes – Straight, .045″ (1.1mm); Straight, .060″ (1.5mm).

13 – BARREL NUT ALIGNMENT GAUGE – Fits into the end of the bolt carrier key to ensure that the barrel nut is properly aligned during installation of AR-15/M16 barrel. Improper alignment can damage the bolt carrier key and/or the gas tube. SPECS: Steel. .178″ (4.5mm) diameter x 3″ (7.6cm) long.

14 – 5.56mm (.223) HEADSPACE GAUGE – Measures maximum headspace. Essential for checking out rifles that have seen heavy use or that have been rebarreled. Not a regular "field" gauge but made to Colt factory dimensions. SPECS: 1.65″ (4.2cm) overall (this is NOT the "Headspace" dimension). .3655″ (9.3mm) diameter.

5.56Mm (.223) Headspace Gauge

15 – BROWNELLS #250 CHAMBER MIRROR – Highly polished, steel mirror drops into the chamber to aid in detailed inspection. Will not move beyond throat. SPECS: 1-3/16″ (3cm) long.

16 – CLEANING ROD SMALL ARMS (w/ADAPTER) – Threaded for 8-36 U.S. military cleaning brushes; includes adapter that accepts commercial 8-32 brushes and accessories. SPECS: Steel, parkerized finish. .204″ (5.2mm) diameter rod. 4 sections, each 7-3/8″ (18.7cm) long – 3 thread into 4th handled section. Overall length, with Jag, 29-3/4″ (75.6cm). Adapter is 3-1/4″ (8.2cm). Jag is 2-3/4″ (7cm) with oval slot.

17 – COMBINATION WRENCH – Removes the barrel nut. Removes/installs flash suppressor and lower receiver extension. SPECS: Blued steel. 5″ (12.7cm) lg x 2″ (5cm) w x 1/4″ (6.3mm) thick.

18 – BROWNELLS ROLL PIN PUNCHES – The ONLY way to properly install or remove roll pins without damage to either the pin or the surrounding metal. A small raised projection in the face of the punch automatically centers the punch and prevents the roll pin from collapsing. SPECS: #1, 1/16″ (1.6mm) x 2-3/4″ (7cm) L; #2, 5/64″ (2mm) x 3-1/4″ (8.2cm) L; #3, 3/32″ (2.4mm) x 3 ½" (9cm) L; #4, 1/8″ (3.2mm) x 4″ (10.2cm) L; #6, 3/16″ (4.8mm) x 4-1/2″ (11.4cm) L.

Brownells Roll Pin Punches

19 & 29 – CARRIER KEY BIT KIT – Two hex bits for installing the bolt carrier key socket head screws, plus an adapter that will connect the Carrier Key Bits to the 3/8″ Drive Torque Wrench. Small and large bits handle both early and late guns. SPECS: Heat-treated steel. 185-2 Bit – 1/8″ (3.2mm) hex bit. 185-10 Bit – 9/64″ (3.6mm) hex bit. 1″ (2.5cm) long. Adapter – Heat-treated steel with retention clip adapts 3/8″ square drive to accept 1/4″ shank hex bits.

20 – BROWNELLS ROLL PIN HOLDERS (STARTER/SETTER PUNCHES) – Easily hold even the smallest roll pins for positioning. Complete installation with Brownells Roll Pin Punches. SPECS: 1/8″ (3.2mm), 3.5mm (.138″) diameter – 5″ (12.7cm) long. 3/32″ (2.4mm), 5/64″ (2mm), 1/16″ (.40mm) diameter – 4-1/2″ (11.4cm) long.

21 – BOLT CATCH PIN PUNCH – Specially made, slab-sided punch clears left side of the magazine well allowing bolt catch pivot pin to be removed by driving it to the rear. SPECS: Steel. 4″ (10.2cm) long. 3/32″ (2.4mm) diameter tip.

22 – STARRETT 1/8″ PUNCH – A best-quality punch for removing solid pins such as those on the hammer or trigger. SPECS: 4″ (10.2cm) long. 1/8″ (3.2mm) diameter tip.

23 – TAPER PIN STARTER – This tool's radiused face matches the end of the front sight housing taper pin to prevent damage during removal. The taper pin is removed by driving from left to right; the small end is on the left side of the barrel, the large end is on the right side! . SPECS: 4″ (10.2cm) long. 3/32″ (2.4mm) diameter tip

24 – STARRETT 1/4″ PUNCH – Facilitates removal of the takedown pin and safety lever/fire control selector. SPECS: 4″ (10.2cm) long. 1/4″ (6.3mm) diameter tip.

25 – STARRETT 5/32″ CENTER PUNCH – Stakes socket-head cap screws securing the bolt carrier key to the bolt carrier. SPECS: 4″ (10.2cm) long. 5/32″ (4mm) punch, 3/8″ diameter body.

26 – PIVOT PIN DETENT DEPRESSOR – Depresses spring-loaded detent to free the pivot pin for removal. Virtually impossible without this tool. Does not fit Colt Mfg. AR-15. SPECS: Blued steel. 1-7/8″ (4.8cm) long.

27 – PIVOT PIN DETENT INSTALLATION TOOL – Makes installation of the M16 pivot pin and its detent faster and easier. Prevents loss of detents. Guides detent and spring into place and serves as a slave pin when installing the pivot pin. SPECS: Blued steel. 1/4″ (6.3mm) diameter. 2-1/2″ (6.3cm) and 1-1/2″ (3.8cm) long "legs".

Pivot Pin Detent Installation Tool

28 – BROWNELLS BROKEN SHELL EXTRACTOR – Fastest way to remove the front portion of a separated 5.56mm (.223) case without field stripping. Engages the rim of case mouth and pulls case from the chamber when charging handle is pulled back. Adjustable to ensure complete engagement of case mouth. SPECS: Blued steel. 2″ (5cm) long.

30 – 445-6 BIT – Use on the AR-15 windage screw, pistol grip screw, and right side of the pivot pin. SPECS: 1-1/2″ (3.8cm) long. Approximately .360″ (9.1mm) diameter x .055″ (1.4mm) thick.

31 – RED BIT – Use on left side of the pivot pin. SPECS: 1-1/2″ (3.8cm) long. Approximately .398″ (10.1mm) diameter x .078″ (1.98mm) thick.

32 – LB BIT – Use on the butt plate screws. SPECS: 1-1/2″ (3.8cm) long. Approx. .428″ (10.9mm) diameter x .070″ (1.8mm) thick.

33 – SIGHT TOOLS – Quickly adjust front and rear sights. A1 fits older AR-15s and M16s, A2 fits M16A2 configuration rifles. SPECS: Blued steel. 13/8″ (3.5cm) long x 3/4″ (19mm) diameter.

34 – 3/8″ SQUARE DRIVE T-HANDLE TORQUE WRENCH – Precisely calibrated to apply the required 40 foot pounds of torque to tighten the two socket-head cap screws on the bolt carrier key. SPECS: Chrome-plated steel. 3-1/2″ (8.9 cm) long. 4-1/8″ (10.5cm) wide handle.

35 – MIL-SPEC TOOL BOX – Heavy-duty case with four drawers, top compartment, and double latches. O-ring seals keep dust and moisture out; built-in wheels and a sturdy, retractable pull handle for easy transport. Extra storage space for parts, manuals, etc. SPECS: 24″ (61cm) wide, 18″ (45.7cm) high, 15″ (38.1cm) deep. 38 lb. wt.

Mil-Spec Tool Box

36 – ACCU-GRIP BARREL VISE JAWS – Massive aluminum jaws lined with space age, polyurethane elastomer grip tight without marring the barrel. Grooves for both standard and heavy barrel contours. Replace Vise Jaws in Standard Kit. SPECS: Machined aluminum with blue polyurethane elastomer lining. 5″ (12.7cm) wide, 1″ (2.5cm) thick, 3-7/8″ (9.8cm) long. 2 lb. 6 oz. (1 kg) wt. Fits 4″ and wider vises.

37 – FRONT SIGHT BENCH BLOCK – Big, tough, polyethylene block gives fitted support for installing/removing the front sight assembly on mil-spec AR-15 rifles and carbines. SPECS: 4″ (10.2cm) dia. x 1-11/16″ (4.3cm) high.

38 – UPPER RECEIVER ACTION BLOCK – Tough Rynite block and insert surround the entire upper receiver to let you tightly clamp an A1, A2, or standard flattop receiver in a large bench vise for barrel removal/installation without twisting the receiver or damaging barrel detent pin and receiver detent notch. SPECS: Block – 2.5″ (6.3cm) thick, 3.5″ (8.8cm) wide, 4.5″ (11.4cm) high. Insert – 8″ (20cm) long, 1″ (2.5cm) diameter.

39 – LOWER RECEIVER VISE BLOCK – Unbreakable, high-density urethane vise block inserts into magazine housing and takes all the clamping force, so the lower receiver won't be damaged or distorted. Magazine catch locks to the block. SPECS: 5″ (12cm) high, 2-1/4″ (5.7cm) wide, 3/4″ (19cm) thick.

40 – HANDGUARD REMOVAL TOOL – Takes the fumbling and frustration out of installing or removing AR-15, M16A1/A2, and AR-10 handguards. Rubber coated steel won't mar gun. SPECS: 11-1/4″ (28.6cm) long.

Handguard Removal Tool

41 – MAGAZINE CATCH INSTALLATION & REMOVAL TOOL – Compresses the spring for easy removal of the magazine catch. SPECS: High-impact plastic, black.

42 – TAKEDOWN PIN REMOVAL TOOL – Drives out the front and rear take down pins without marring the metal. SPECS: High-impact plastic, black.

43 – BOLT EJECTOR TOOL – Steel clamp captures the bolt head, and turnscrew depresses the ejector for faster, easier removal and installation of plunger-style ejectors. SPECS: Steel, blued. Plastic handle.

44 – MAGAZINE FEED LIP TOOL – Bends the feed lips back into place, so they guide the cartridge body properly to prevent problems and jams caused by bent magazine feed lips. SPECS: Steel shank, blued; plastic handle. 5-1/2″ (14cm) long.

Magazine Feed Lip Tool

45 – GAS TUBE WRENCH – Clamps around the fragile gas tube to prevent damage during both removal and installation. SPECS: Steel, blued. 6″ (15.2cm) long.

46 – BOLT CARRIER CARBON SCRAPER – Removes hard-to-get-at carbon buildup without damaging the bolt carrier. Solves cycling problems caused by carbon deposits in the bolt recess. SPECS: Steel reamer, plastic handle. 6-1/2″ (16cm) long.

47 – BUTTSTOCK TOOL – Combines several tools into one for taking apart M4-style collapsible buttstocks. Includes pins for old- and new-style receiver extension nuts. SPECS: Steel, black. 7″ (17.8cm) long.

AR 15 Buttstock Tool
About Brownells
Serious About Firearms Since 1939, Brownells is the world's leading source for gun parts and accessories, ammunition, gunsmithing tools, survival gear and archery. With a large selection of both common and hard-to-find items, and an extensive collection of videos, articles, and gun schematics, Brownells is the expert for everything shooting-related. Committed to maintaining our great traditions, Brownells has more, does more and knows more – and guarantees it all, Forever. For more information or to place an order, call 800-741-0015 or visit Brownells.com. Stay up-to-date with Brownells on YouTube, Facebook, Twitter and Instagram.