FNH USA Hits The Target With Its New Tactical Sport Rifle (TSR)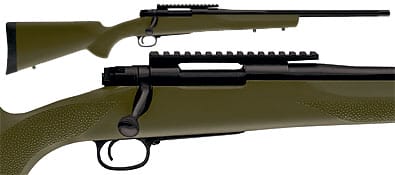 McLean, Va. – -(AmmoLand.com)- FNH USA announces the new FN TSR (Tactical Sport Rifle) is now shipping to distributors and dealers.
Configurations include:
FN TSR XP USA (arriving at dealers now)
• 223 REM: 20" fluted barrel; six-round magazine
FN TSR XP (additional models available by year end 2009)
• 308 WIN: With 20" and 24" fluted barrels; four-round magazine
• 300 WSM: With 24" fluted barrel; three-round magazine
Built at FN Manufacturing in Columbia, SC, the TSR has a new three-lever tactical sport trigger with an adjustable pull weight from three to five pounds and is factory set at 3.75 pounds. Both models have MIL-SPEC cold hammer-forged barrels for long bore life. Models feature an internal magazine with a hinged floor plate (FLP) or detachable box magazine (DBM). Included is a one-piece steel MIL-STD 1913 optical rail, with additional elevation built-in for quick sighting and proper scope height.
The Model 70 design bolt-action receiver is available in ultra short, short magnum and long action lengths and mates to a full aluminum bedding block molded into the FN/Hogue® synthetic stock that's covered with a textured olive drab OverMolded rubber surface. Premium recoil pad and multiple sling studs are standard equipment.
For more information on the FN TSR XP and FN TSR XP USA, visit www.fnhusa.com.
About:
FNH USA is the sales and marketing arm of FN Herstal, S.A., Belgium. Its corporate mission is to expand its global leadership position in defense, law enforcement and commercial markets by delivering superior products and the finest in training and logistical support. Visit www.fnhusa.com to view the entire line of FNH USA products and services. FNH USA, P.O. Box 697, McLean, VA, 22101, U.S.A.