Michigan 'Firearms Freedom Act' Legislation Introduced
This send a strong message to the Federal Government that Michigan will not put up with increasing federal powers.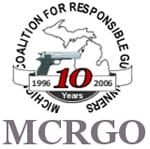 Michigan –-(AmmoLand.com)- House Bill 5232 introduced by Representative Phil Pavlov and cosponsored by 44 other Michigan Representatives seeks to:
"create the Michigan firearms freedom act; to make certain findings regarding intrastate commerce; to prohibit federal regulation of firearms, firearms accessories, and ammunition involved purely in intrastate commerce in this state; to provide for certain exceptions to federal regulation; and to establish certain manufacturing requirements."
A brief statement from Rep. Pavlov's website:
Following national threats to weaken our second amendment rights, state Rep. Phil Pavlov today introduced the Michigan Firearms Freedom Act to protect the rights of Michigan's residents.
"The right to bear arms is guaranteed in our Constitution, and we will protect it in Michigan," said Pavlov, R-St. Clair. "This legislation ensures that federal rules cannot restrict the right to buy or sell firearms in our state."
Pavlov's legislation, House Bill 5232, reaffirms Michigan's right to regulate interstate commerce and states that any firearm or firearm accessory manufactured and sold in Michigan will not be subject to any federal mandates that relate to the manufacturing and sale of firearms or firearm accessories.
"Today we stand as the founders' envisioned, with states controlling their own destiny within their borders," Pavlov said. "But the federal government has greatly expanded its reach into areas that it shouldn't and we are here to defend what belongs to Michigan."
Pavlov introduced the bill with strong bipartisan support in the House.
Current Bill Status: Referred to Committee on Judiciary Aug 11th.
As reported earlier Michigan in now following in the steps of Montana's Firearms Freedom Act and Tennessee's Firearms Freedom Act. – AmmoLand.com

About:
The Michigan Coalition for Responsible Gun Owners is a non-profit, non-partisan organization. Formed from just eight people in 1996, we now have thousands of members and numerous affiliated clubs across the state. We're growing larger and more effective every day.
Our mission statement is: "Promoting safe use and ownership of firearms through education, litigation, and legislation"