Thor Global Defense Group MKV-NV 'Nemesis' .50Bmg
A bold step forward in .50 caliber sniper systems.
Fort Smith, AR –-(AmmoLand.com)- The similarity of weapon platforms has muddled the current market with a great deal of confusion as to what differences may be inherent in certain designs that might provide a better purchase and drive quality results.
A new .50 BMG rifle may be a dime a dozen with the current market and new companies forming every day, but every so often, something fresh, unique and exciting comes along.
THOR Global Defense Group has proudly unveiled the MKV-NV C (Mark five NV Charlie) "Nemesis" Series rifle. For the first time available in the United States, THOR has worked closely with Swiss arms company A.M.S.D. to produce this excellent new platform.
The Nemesis MKV-NV is designed with the needs for modular configurations as well as the highly mobile shooter's needs in mind. Produced with extreme attention to detail, every rifle features a folding buttstock with adjustable cheek piece, multiple rails for mounting a variety of devices, easily detachable barrel – available in various lengths, sling attachments and an effective brake. Standard magazine capacity is 5 rounds of .50BMG ammunition.
"We [THOR] hope to achieve wider acceptance for military and law enforcement applications" says Marcus Phillips, Import/Export Director for THOR "there's definitely a market for a quality, accurate system, and I feel that this platform is capable of catering to the needs currently out there."
In addition to sales, THOR staff offers complete training on this, and other weapon systems – from general familiarization to overall full-armorer certification.
THOR Global Defense Group was created to meet the increasing demand for advanced weapon platforms, security services, and training. THOR aids clients with high standards and special needs both domestic and abroad – and is able to handle all aspects of security in a highly effective manner.
If you'd like more information about this topic, please visit the THOR website at www.thorgdg.com.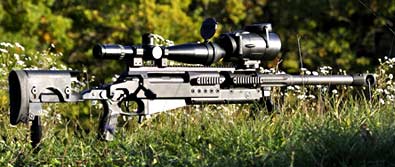 About:
THOR Global Defense Group offers security services, weapons & equipment, training and on-site ranges. Our security services vary from Risk Management to Executive Protection services, as well as consulting. We offer worldwide training for civilians, Law Enforcement and Military.
With THOR, you can purchase a weapon and become fully trained on it at our expansive facility.