Rock Island's Massive December Firearms Auction Could Put Yearly Sales Over $30 Million!
PREMIERE Firearms Auction December 4th, 5th, & 6th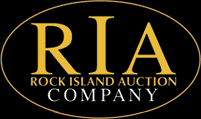 Rock Island Auction Company – -(AmmoLand.com)- Rock Island Auction Company announces the next Premiere Firearms auction to be held December 4, 5 & 6 at their facility in Moline, IL. Rock Island is on track for another banner year as a successful December auction could put yearly sales over $30 million. With most items unreserved this sale is expected to maintain the 97% sell through rate Rock Island has established over the last five years. This sale will be the most diverse auction of RIAC's history with antique historic pieces to modern sporting and military arms, this auction offers firearms for every level of collecting.
Colt manufactured firearms take center stage at this auction with a staggering 700+ being offered! Spotlighting this section is a very rare, possibly finest known Colt U.S. Walker replacement dragoon revolver estimated to bring $100,000 – $185,000. 200+ Colt single actions and Bisleys including several extraordinary factory engraved pre-war Colt single action army revolvers. Another stand out Colt is a William F. "Buffalo Bill" Cody's black powder Colt single action army "Frontier Six Shooter" revolver with factory case expected to reach $50,000-$70,000. There are over 100 Colt percussion revolvers led by an exceptional and historic, deluxe, cased Gustave Young factory engraved model 1849 pocket revolver ($55,000 – $85,000) and a scarce high conditioned Colt third model dragoon revolver with four-screw frame ($32,500- $40,000).
The December sale boasts one of the largest selections of Colt long arms to come to auction. Many Colt sporting rifles will be offered including a rare cased Colt 1855 first model sporting rifle ($20,000-30,000). A very rare early production Colt Model 1839 Paterson carbine with two digit serial number estimated $16,000 – $25,000 and is one of six Colt Patersons in this sale.
The Civil war arms in this auction are impressive. This fantastic collection includes many high condition pieces including over 30 Confederate arms, an opportunity rarely seen at auction! Two of the many exceptional pieces are an extremely rare documented Confederate Augusta Machine Works percussion twelve-notch style revolver and a Second Model Civil War Le Mat and Girard's Patent London marked percussion Grape-Shot revolver valued at $25,000 – $35,000 each. Several historical and presentation pieces can be found including a Confederate presentation revolving rifle inscribed to ordnance officer Caleb Huse, an outstanding Colt model 1851 percussion Navy revolver belonging to Confederate Colonel James Gregory Hodges who was killed at Pickett's charge, and rare Confederate Augusta Machine Works percussion revolver inscribed to H. Canning, a crew member of the C.S.S. Shenandoah. Other Confederate manufacturers include Spiller & Burr, Rigdon & Ansley, Griswold & Gunnison, Richmond Armory and many more.
The impressive offering of Civil War era firearms continue with a rare prototype Savage revolving firearms co. navy model revolver with attachable shoulder stock ($17,000 – $22,500) and a scarce LeMat Pinfire carbine serial number 7 with gold inlay ($7,500-$15,000). A scarce Civil War era Manson Sheffield fighting knife with patriotic etching and silver fittings is one of over 60 Bowie type knives in this auction.
There is a special grouping of Sharps long Arms in this auction. The rifles, muskets and carbines comparable to those RIAC sold from the famous Sharps collector and author Frank Sellers. Two examples include extremely rare Sharps ultra heavy barrel special order Model 1874 bench rest target rifle with factory letter ($25,000 – $37,500) and a rare Berdan Sharpshooters Sharps New Model 1859 rifle ($10,000 – $16,000).
The grouping of revolving rifles, shotguns and curio type pistols is amazing. This is one of the largest offerings to come to auction with a rarity and quality never before offered. The most notable of the group is a unique and rare cased Bunge revolving rifle estimated at $19,000 – $25,000. Other examples include a rare Collier revolving percussion shotgun ($10,000 -15,000), an elaborate engraved and gold inlaid Cogswell percussion revolving rifle ($6,500 – $9,500) and a very rare, second type, C.B. Allen Cochran patent revolving Turret rifle ($12,000 – $15,000). This unique grouping also holds several harmonica pistols, belt model revolvers and turret pistols including a very rare engraved four shot percussion Turret pistol marked JLC Brevette ($11,000 – $16,000) and a rare documented French Jarre 10-shot double action pinfire harmonica pistol ($7,500 – $15,000).
The large selection of diverse derringers contains quality featuring several experimental/prototype and one-of-a-kind pieces. Leading with a rare experimental/prototype J. Rider marked double action pocket revolver with trigger guard loading lever estimated at $16,000-$25,000. Another fine example is a one of a kind documented inventors prototype model Remington vest pocket pistol awarded NRA best display medal carrying a pre-sale estimate of $14,000 – $20,000. The Remington derringers in this sale are some of the finest ever offered.
Over 200 Winchesters in the auction offer a variety to choose from. There are several fine lever actions starting with a magnificent Winchester Model 1873 saddle ring carbine ($37,500 – $50,000) and an excellent special order Winchester Model 1886 semi-deluxe lever action rifle with factory letter ($18,000 – $27,500). Collectors will enjoy the quality in a historical, inscribed Henry patent barrel marked Winchester Model 1866 rifle ($9,500 – $15,000) and a rare special order nickel plated Winchester Model 1892 saddle ring carbine with factory letter ($7,000 – $9,000). There are six Henry Rifles and three Volcanic pistols in this sale featuring a deluxe engraved, silver-plated, New Haven Arms Co., Volcanic lever action No. 2 Navy pistol with ivory grips ($30,000 – $50,000) and one of the finest known Volcanic carbines estimated at $65,000 – $95,000.
The 400 plus sporting arms in this auction will impress both the sportsman and collector. Over 200 shotguns will be offered including several top notch European shotguns from Holland & Holland, Purdey, Westley Richards and others. A magnificent cased engraved gold inlaid consecutively serial numbered pair of Holland & Holland royal exhibition grade hammerless double barrel game bird set shotguns with factory weapon history letter is estimated at $35,000 – $65,000. Other fantastic shotguns are a cased engraved Purdey & Sons hammerless double barrel shotgun with factory letter ($30,000 – $40,000) and an exceptional engraved Parker DHE double barrel shotgun ($6,500 – $9,000). An excellent cased engraved Adamy Gebruder two barrel set double barrel rifle with scopes ($18,000 – $25,000) is one of the many spectacular sporting rifles in this auction.
U.S., European and Japanese military firearms are abundant in both quality and quantity. The German selection is impressive with daggers, uniforms, badges and medals accompanying the lugers, broomhandles, rifles and more. The center piece of this section is an extraordinary newly discovered, one of now five known, factory engraved Krieghoff presentation luger pistols with leather case and two matching magazines. Any Krieghoff P.08 Luger is highly desirable and very rare on today's market. Having a Factory Engraved "Presentation Grade" Krieghoff of which there is only a handful known, is undoubtedly the pinnacle of Luger collecting and therefore carries the a pre-sale estimate of $100,000 – $200,000.
An outstanding selection of U.S. military arms will be offered with rare variations and several prototype weapons. A rare "Snabb" developmental Springfield Model 1903 semi-automatic experimental rifle and a magnificent WWII Standard Products presentation grade M1 carbine with special stand, display case and accessories are just two examples. An exceptional original Colt Model 1921/1928 U.S. Navy over stamp Thompson submachine gun is one of the 6 class III weapons in this sale.
Over 100 1911's and early autos will be in this sale including a rare Singer Manufacturing Company Model 1911A1 semi-automatic pistol estimated at $37,500 – $55,000. An auction favorite is an extremely rare, documented presentation cased early production Colt Government Model semi- automatic pistol with historical inscription and gold inlay. This spectacular example of a "highly factory optioned" Colt Government Model Semi-Automatic pistol carries a pre-sale estimate of $20,000 -$40,000. An extremely rare, prototype, Colt Model 1910 semi-automatic pistol is one of several experimental or prototype Colts in this auction and is expected to bring $60,000 – $95,000.
In its entirety, over 2700 lots will be sold on December 4th, 5th and 6th by Rock Island Auction Company. With its diversity and most items unreserved, this is the auction that will help to fill a hole in your collection. The December auction is catalogued in a full-color two-volume catalogue, which can be ordered through the mail ($60) or viewed online at www.rockislandauction.com. Rock Island Auction Company is currently seeking consignments for their upcoming auctions.
Quick Highlights of the September Auction:
Over 2800 Lots
Over 2100 Classified as Antique or Curio & Relic
Over 200 Civil War Arms, Over 30 Confederate Arms!
Over 700 Colts
Over 200 Winchesters
Over 400 Quality Sporting Arms
Over 150 Deringers
Check Out All the Diverse Categories
Auction times:
Auction begins 10 am December 4th, 5th & 6th
Full day preview Thursday, December 3rd from 10 am – 6 pm
Preview: December 4th, 5th & 6th from 7:30am – 10am, and during the auction for items not being sold that day.
Location
Rock Island Auction Company's 23,000 square foot state-of-the-art auction facility is located at, 4507 49th Avenue, Moline IL 61265
Phone 800-238-8022, Fax 309-797-1655
Email [email protected]
www.rockislandauction.com for more location, directions, and hotel information
About:
Rock Island Auction Company has been solely owned and operated by Patrick Hogan. This company was conceived on the idea that both the sellers and buyers should be completely informed and provided a professional venue for a true auction. After working with two other auction companies, Mr. Hogan began Rock Island Auction in 1993. Rock Island Auction Company has grown to be one of the top firearms auction houses in the nation. Under Mr. Hogan's guidance the company has experienced growth each and every year; and he is the first to say it is his staff's hard work and determination that have yielded such results.