RSR Group Hosts a Virtual Trade Show Where Firearms Dealers Can Stock Up
Blizzard of Bargains – the Latest E-Show Event – Is Coming to RSR Group, Inc.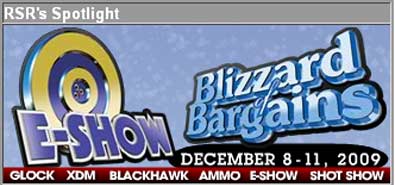 Winter Park, FL –-(AmmoLand.com)- RSR Group, Inc. presents its latest Virtual Trade Show, Blizzard of Bargains. This event begins on December 8 at 11:00 a.m. EST and runs through December 11 at 11:59 p.m. EST. The December E-Show offers dealers the opportunity to stock their shelves for the upcoming holiday season without ever leaving their stores.
To take part in the E-Show, participants simply log on to the RSR Group, Inc. Web site at www.RSRGroup.com, where they can visit "virtual booths" and take advantage of price reductions and much more. Blizzard of Bargains will feature exciting product introductions for the upcoming year, as well as special pricing and limited-time dealer programs from renowned shooting sports manufacturers. A daily prize giveaway will also take place for participating customers. The E-Show will offer great deals on merchandise to stock dealers' shelves just in time for the gift-giving season.
RSR Group, Inc. is the first company in the shooting sports industry to develop and hold an online event of this nature. As travel costs continue to rise, the company is happy to offer this convenient solution to help dealers stock their shelves quickly and competitively.
About:
RSR Group, Inc. is committed to the total satisfaction of its customers by providing a well-stocked selection of products at competitive prices. With five sales centers across the U.S. and a distribution center located in Texas, RSR Group, Inc. is able to provide fast and reliable service. For additional information about RSR Group, Inc. call Alysa George at 407-677-1333 ext. 625 or visit www.rsrgroup.com.