Michigan Firearms Concealed Pistol License Holders Continue To Grow
3227 added to the ranks of armed Michigan citizens this month.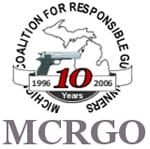 Michigan –-(AmmoLand.com)-The most recent (Nov 2009) County by County CPL report is now available for download from the Michigan State Police web site.
According to the MSP report, as of Nov 3rd, 2009 there were 217,443 concealed pistol license holders in Michigan.
That increases the ranks of law abiding concealed gun owners in Michigan by 3227 defenders.
Click here to download County by County CPL report.
About:
The Michigan Coalition for Responsible Gun Owners is a non-profit, non-partisan organization. Formed from just eight people in 1996, we now have thousands of members and numerous affiliated clubs across the state. We're growing larger and more effective every day.
Our mission statement is: "Promoting safe use and ownership of firearms through education, litigation, and legislation"