The NRA Blog – Discover the Programs of NRA
AmmoLand is thrilled to be the first to wish the NRA Blog a Happy 1st Birthday!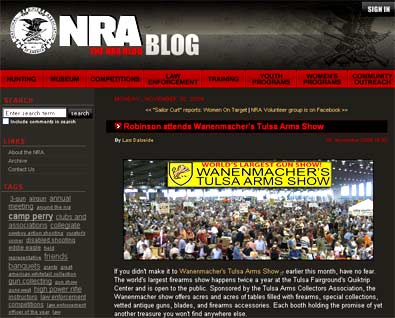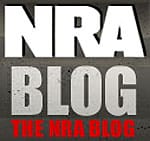 Fairfax, Virginia -(AmmoLand.com)- AmmoLand.com's featured Gun Blog of the Month, for December 2009, is the The NRA Blog at www.nrablog.com .
The NRABlog is the official blog for the National Rifle Association and is a joint effort by all the different branches of the NRA organization and is a great source for for an intimate look inside the events and programs of the NRA.
As diverse as the NRA membership the NRAblog covers many topics from Firearms Collecting to Women OnTarget Hunts to the National Police Shooting Championships. The Nra Blog is well worth taking time to explore.
NRABlog Blog Interview:
Q: What is your Blog's Official Name?
A: NRAblog

Q: How many people work on the NRA Blog or what is the organizational structure?
A: NRAblog is a combined effort of the NRA's Media Relations division and each of the divisions of NRA General Operations: National Firearms Museum, Competitive Shooting, Education + Training, Field Operations, and Law Enforcement Activities.

Q: What are the names of the writers or contributors to the NRA Blog?
A: Blog contributors from Media Relations include Lars Dalseide, Kyle Jillson, Danielle Sturgis, Kerrin Brinkman.

You'll also hear from the staff of the NRA National Firearms Museum — Jim Supica, Phil Schreier, Doug Wicklund and Matt Sharpe – and assorted folk from across the NRA.

Q: Does each person have a specialty that they focus on?
A: Typically, Danielle blogs about our women's programs, along with events happening at the NRA HQ Range and the National Firearms Museum; Kerrin covers most of the Education & Training division, including our busy youth program division and all NRA Certified Instructors; Lars takes care of Law Enforcement and disabled shooting; Kyle blogs about a variety of competitions and Friends of NRA events.

With 184 programs and a busy calendar of events, though, we share opportunities and areas in order to cover as much as possible.

Q: Where are is the NRA Blog located?
A: Wherever the programs of the NRA take us! Granted, most of our writing is done from NRA HQ here in Fairfax, Virginia, but in 2009 we have blogged "on location" from the following events:


National Rifle and Pistol Matches at Camp Perry, OH
NRA Annual Meetings in Phoenix, AZ
National Police Shooting Championships in Albuquerque, NM
SHOT Show in Orlando, FL
Women's Wilderness Escape at the NRA Whittington Center in Raton, NM
Friends of NRA banquet in Fountain City, WI
Wanenmacher Gun Show in Tulsa, OK
Club University workshops in Albany, NY; Sacramentio, CA; and Nashville, TN
Collegiate championships in TX

Q: What is the point of view or purpose of your blog?
A: We aim to spread awareness of the programs of the NRA – whether through pictures, video, first-person accounts, or interviews. NRA members and nonmembers alike are welcome to use NRAblog as a resource.

Q: How long has your Blog been active?
A: After a re-design, NRAblog went live in December of 2008. We're turning one this month!

Q: What are the main sections or categories of the NRA blog and what do they cover?
A: The following tabs at the top of the site offer easy navigation of our main areas:

Q: Do you have any other digital sites?
A: Of course! We invite blog readers to make use of the following resources:


www.NRA.org
www.NRAnews.com
www.NationalFirearmsMuseum.org
www.NRAILA.org

Also, for those interested in social media, check out NRAblog on the following network sites:

Twitter: https://twitter.com/NRAblog
Facebook: https://www.facebook.com/group.php?gid=40573473288&ref=ts
YouTube: https://www.youtube.com/user/GOnraMedia
LinkedIn: https://www.linkedin.com/groups?gid=89220&trk=hb_side_g

Q: What is one thing that you want AmmoLand Shooting Sports News readers to know about the NRA Blog?
A: We're your one-stop resource for the programs of the NRA! If you're looking to learn more about the Youth Hunter Education Challenge, the NRA Bianchi Cup, or the NRA Business Alliance, check us out. We offer a variety of website links to other parts of the NRA, including the NRA-Institute on Legislative Action.

Q: What things would you like to do or expand on in the NRA blog to in the future?
A: We're always working to find new ways to connect with our readers. Now that we are on Twitter and YouTube and Facebook and LinkedIn, we'd like to start a monthly or weekly newsletter feature. NRAblog readers could opt to receive the newsletter via email to stay up-to-date with the programs of the NRA and to learn about exclusive offers and more.

Q: What parting remarks or comments you would like to make or promote?
A: We're thrilled to be included on your site! Thanks for all you do to get the word out about firearms groups, events, and merchandise. See you at the NRA Annual Meetings, May 13-18 in Charlotte, NC.
AmmoLand is thrilled to be the first to wish the NRA Blog a Happy 1st Birthday! So be sure and stop by the NRA Blog on Facebook and wish them Happy Birthday on their wall.
Visit: www.NRAblog.com