Stoeger's New Double Defense Shotgun – Ready When Trouble Calls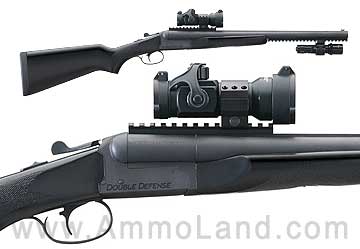 ACCOKEEK, MD – -(AmmoLand.com)- Stoeger's new Double Defense side-by-side shotgun is a straightforward and economically priced, rugged and reliable home defense shotgun.
Ideal for use in tight quarters and tense situations, the Stoeger Double Defense with its traditional break-action and short, efficient design is easy to load and quick to deploy in an emergency.
A double-barrel shotgun has been the defensive firearm of choice for generations, but Stoeger has added practical, up-to-date features to the "tried-and-true" double gun. The Double Defense is chambered for 2 ¾- and 3-inch shells, in either 12- or 20-gauge. The tactical-length 20-inch ported barrels feature fixed, improved cylinder chokes. The fast, single-trigger design and convenient, tang-mounted automatic safety makes the Stoeger Double Defense ideal for home security use.
The Double Defense gun is outfitted with a green, fiber-optic front sight and comes standard with two Picatinny Rail accessory mounts: one on the receiver for speed- or red-dot sights and a second factory-installed rail under the barrels for attaching targeting lasers or tactical lights. All metal surfaces are finished in matte blue and come complete with non-reflective matte black hardwood stock and forearm.
"Stoeger's new Double Defense shotgun is a perfect choice for high-stress, self-protection situations where simple is best," said Stephen McKelvain, Benelli USA's VP of Marketing & Communications. "If you want a gun that's easy to use and quick to handle — and one that won't crush your finances — the Stoeger Double Defense is your shotgun of choice."