USA Shooters Capture Day One Winter Airgun Championship Rifle Titles
Emmons, Scherer Shoot Perfect Scores.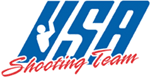 COLORADO SPRINGS, Colo. –-(AmmoLand.com)- The first day of competition at the 2009 Winter Airgun Championships took place at the U.S. Olympic Training Center (OTC) in Colorado Springs, Colo. today with two-time Olympic medalist Matt Emmons (Browns Mills, N.J.) and Sarah Scherer (Forth Worth, Texas) shooting perfect match scores and claiming the first day titles for rifle. Three-time Olympian Daryl Szarenski and Teresa Meyer captured first place for pistol.
Emmons entered the Men's 10m Air Rifle final with a perfect score of 600 and shot 103.3 points in the final round to capture the day one title with an overall score of 703.3. U.S. Army Marksmanship Unit (USAMU) member Matt Rawlings (Wharton, Texas) grabbed second place with 699.1 total points. Jonathan Hall (Carrollton, Ga.) finished one tenth of a point behind Rawlings in third place with 699.0. Michael Kulbacki (DuBois, Pa.), who is part of the number one ranked West Virginia University rifle team, took first place for the junior men with 691.8 total points. Dempster Christenson (Sioux Falls, S.D.) finished close behind Kulbacki in second place with 691.6, while 2008 Olympian Stephen Scherer (Fort Worth, Texas) claimed the third spot with 689.6.
In Men's Pistol, USAMU member Daryl Szarenski (Saginaw, Mich.) captured the title with a match score of 574, a final score of 101.4 for an overall total of 675.4 points. Brian Beaman (Selby, S.D.), a 2008 Olympian, took second place with 672.6, while 2008 Olympic bronze medalist Jason Turner (Rochester, N.Y.) finished in third place overall with 670.8 points. Will Brown (Twin Falls, Idaho) won the Junior Men's Pistol title by 13.6 points, after firing a total score of 666.7, while Matthew Pueppke (Amenia, N.D.) finished second with 653.1 points. Jack Dutoit (Arlington, Texas) claimed third place with 651.9.
Texas Christian University rifle team member Sarah Scherer grabbed the title for Women's 10m Air Rifle after shooting a perfect match score of 400 points, a final of 103.4 for a total score of 503.4. Jamie Beyerle (Lebanon, Pa.), a 2008 Olympian, finished in second place with 500.9 points and two-time Olympian Emily Caruso (Fairfield, Conn.) grabbed the third spot with 499.4 points. Scherer also took first place for the junior women with 502.8 points, while Abigail Stanec (Wadsworth, Ohio) finished second with 496.9 and Sarah Beard (Danville, Ind.) earned the third spot with 495.8.
Teresa Meyer (Dearborn, Mich.) earned the top spot in Women's Pistol, finishing with an overall score of 472.1 points. Sandra Uptagrafft (Phenix City, Ala.) took second with 469.5 and Courtney Anthony (Lexington, Neb.) grabbed third place with 465.5 points. Anthony also took home the junior title with a score of 470.5, while Hannah Lewis (Colorado Springs, Colo.) claimed the second spot with 464.1 points and Kylie Gagnon (Bozeman, Mont.) finished third with 460.1.
Over 260 rifle and pistol airgun shooters from across the United States, as well as 40 athletes from 11 countries around the world, are competing in the 2009 Winter Airgun Championships with competition running through Sunday, December 6. Identical competitions are taking place in air rifle and air pistol with finals matches closing out each day of the event.
The 2009 Winter Airgun Championships will serve as a U.S. team tryout for 2010 ISSF World Cups, the 2010 World Championships (part I) and the Bavarian Airgun Championships in the Air Pistol and Air Rifle Events.
A full match schedule as well as complete results can be found by visiting USA Shooting's website at www.usashooting.org.
ELEY is a Proud Sponsor of the USA Shooting Rifle and Pistol Teams:
ELEY Limited, manufacturer of the world's most consistently accurate rimfire ammunition, has been the Official Sponsor and Official Supplier of .22 rimfire ammunition of the USA Shooting rifle and pistol teams since 2000. For more information on ELEY and their products, please visit https://www.eley.co.uk/.