The Barrett Model 98B Has Been Selected As The 2010 American Rifleman Rifle Of The Year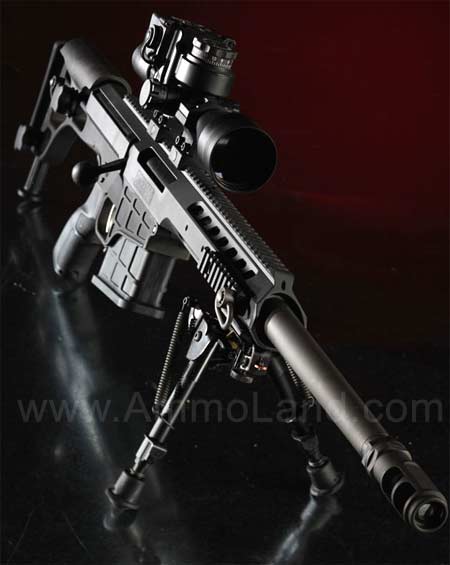 Murfreesboro, TN –-(AmmoLand.com)- Barrett, a company world known for providing high-end firearms, optics, ammunition and training is awarded with the NRA Publications 2010 Golden Bullseye® Award as the American Rifleman Rifle of the Year for their Model 98B bolt action .338 Lapua Magnum Rifle.
Now in their eighth year, the NRA Publications' Golden Bullseye Awards acknowledge the finest products available in the shooting sports. This year the Barrett Model 98B was selected by a seven-member committee that represents more than a century of collective experience in the hunting and shooting industry.
To qualify for consideration for a Golden Bullseye Award, the Barrett Model 98B met the following criteria:
Recently introduced and available to consumers prior to the selection for the Golden Bullseye Awards
Used/tested by a staff member or regular contributor to the magazine and/or affiliated media
Reliable in the field, meeting or exceeding the evaluator's expectations
Innovative in design and function
Readily perceived as a value to the purchaser
Styled in a manner befitting the shooting and hunting industry and, perhaps more importantly, its enthusiasts
"The Golden Bullseye Award honors our winners for bringing to market products remarkable in their utility to shooters and hunters," said Joe H. Graham, Executive Director of NRA Publications. "The award is a symbol of excellence and innovation in firearms, accessories and related equipment."
Barrett will be presented with the Golden Bullseye Award for 2010's Rifle of the Year at the 2010 NRA Annual Meeting and Exhibits in Charlotte, North Carolina. In addition to the trophy, the Barrett Model 98B will be featured in an editorial overview of the Golden Bullseye Awards in the May issue of American Rifleman and American Hunter® and the June issue of Shooting Illustrated.
Designed by Chris Barrett, the Model 98B rifle is an innovative design that departs from traditional precision rifle designs offering a modular, user adaptable design that can be configured to meet the individual needs of the shooter. Since its introduction to the market, the 98B has been a huge success with precision shooters around the world.
Barrett is a family owned and operated company specializing in high performance rifle systems and accessories. Barrett manufactures rifles, ammunition, optics and other related accessories for civilian sport shooters, law enforcement agencies, the United States military and over 63 foreign allied militaries worldwide. Visit: www.barrett.net