B. Rizzini USA Has Unveiled The New Inverness Round Body Shotgun
The new Inverness Round Body over and under shotgun has been released by B. Rizzini USA.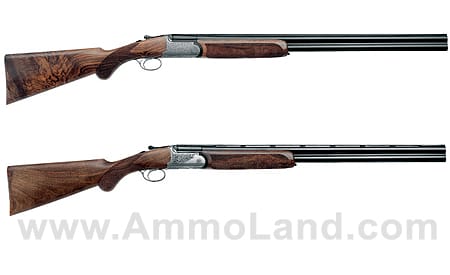 NEW BRITAIN, CT –-(AmmoLand.com)- The new Inverness Round Body shotgun, a new rounded action over & under game gun, is now available exclusively through B. Rizzini USA dealers.
The Inverness Round Body was built with the combined influence of Scottish profiles and Italian reliability, making it a very unique over & under. Since machines can not properly cut the angles of a rounded action, much more hand crafting is needed to produce this low profile game gun.
The Inverness Round Body comes with a standard frame in 12, 16, and 20 gauge or with a small action frame, that has an even lower profile, in 28 gauge and .410 bore. It is a box lock gun, and comes with the choice of coin finish or traditional bone and charcoal case coloring. The gun comes standard with automatic ejectors, a single selective trigger, interchangeable chokes, and a solid game top rib. The Inverness Round Body has a round knob prince of whales grip and the choice of a hunting or Schnabel forend. The different options for barrel lengths are 26 ½ ", 28", 29 ¼ ", 30″, and 32".
Both sized frames come in a choice of two models, classic or deluxe. Both have a delicate foliate scroll, the deluxe scroll has full coverage, and the classic has 50% coverage. Either model comes with the option of buying matched pairs.
The Inverness Round Body retail price begins at $4,985.00 for 12, 16, and 20 gauge. The small action 28 gauge and .410 bore starts at $5,629.00. B. Rizzini USA guns are only available through authorized B. Rizzini USA dealers. For more information on the Inverness Round Body or for a list of dealers please visit www.rizziniusa.com or call 860-225-6581.
B. Rizzini USA is a division of Connecticut Shotgun Manufacturing Company. B. Rizzini USA delivers the best of B. Rizzini shotguns, which are well known throughout Europe and whose popularity is rapidly spreading in the United States. B. Rizzini guns, both trap and field models, are known for being incredibly accurate and dependable without sacrificing feel or aesthetics.
Connecticut Shotgun Mfg. Co. was founded in 1975 by the current president Antony Galazan. The company's established principle of producing the finest American shotguns has previously been realized through their popular RBL series, the innovative A-10 American, the handcrafted A. Galazan over/unders and the modern reproductions of the A.H. Fox, Parker, and Winchester Model 21.