New Version Of The A-10 American Shotgun Is Now Available
Connecticut Shotgun is now offering the A-10 American, Platinum Edition.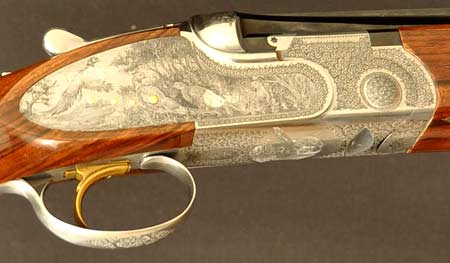 NEW BRITAIN, CT –-(AmmoLand.com)- The A-10 American will now be available in the Platinum Edition.
This addition displays a magnificent, highly detailed Bulino style engraving with a miniature English scroll surrounding pheasants on both lock plates.
A Labrador retrieving a pheasant is engraved on the bottom of the receiver.
The engraving pattern was developed by world renowned Master Engraver Paul Lantuch.
The A-10 American Platinum comes with all the normal A-10 American features and options. The A-10 American Platinum starts at $12,500.00
More information about CSMC and the A-10 American Platinum can be found at www.A10American.com or by calling Connecticut Shotgun Mfg. Co. at 860-225-6581.
All CSMC guns are made in America at the sole facility in New Britain, CT. The A-10 is a full sidelock shotgun that is hand detachable, low profile, and has the shallowest frame available.
The A-10 has patented features that create the strongest, most durable gun on the market without sacrificing the elegant lines and handling of a fine shotgun.
Connecticut Shotgun Mfg. Co. was founded in 1975 by the current president Antony Galazan.
The company's established principle of producing the finest American shotguns has previously been realized through their popular RBL series, the innovative A-10 American, the handcrafted A. Galazan over/unders and the modern reproductions of the A.H. Fox, Parker, and Winchester Model 21. Visit: www.connecticutshotgun.com