Knife Stores Assaulted By NY District Attorney
New Yorkers Being Deprived of Popular Pocket Knives.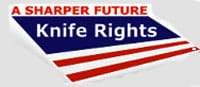 New Hampshire –-(Ammoland.com)- The New York County (Manhattan) District Attorney's office appears to be engaged in a shakedown of local businesses, forcing them to pay six-figure so-called "contributions" or risk unwarranted criminal penalties, in a move more like that of organized crime than the agency charged with protecting citizens, said a national group representing the rights of Americans who own and use pocket knives.
Knife Rights Chairman, Doug Ritter, said, "the New York County District Attorney, Cyrus Vance, Jr. appears to have targeted legitimate, honest knife dealers, accused them of selling illegal 'gravity knives,' and threatening criminal prosecution if they don't pay up. The so-called "gravity knives" in question appear to be conventional one-handed and assisted-opening knives, which represent 80 percent of the pocket knives sold in the U.S. today."
Some of the major retailers have reported agreed to six-figure settlements and have netted the DA millions of dollars.
Knife Rights was instrumental in passing legislation last summer, in response to a misinterpretation of law by U.S Customs and Border Protection, that specifically excepted these common pocket knives used daily by millions of Americans from the definition of a switchblade under the Federal Switchblade Act. The legislation was supported by Customs and was passed by U.S. Congress, with strong bipartisan support, and signed into law by President Obama on October 28, 2009.
Ritter said, "Given the passage of this legislation, the DA is attacking people who sell knives that were clearly defined by Congress as simple pocket knives, legislation that was supported by leading Democratic lawmakers such as Henry Waxman (D-CA), Charles Rangel (D-NY), David Obey (D-WI) and others. This action is not only unethical; it places Mr. Vance at odds with even liberal urban lawmakers and outside the mainstream on this issue."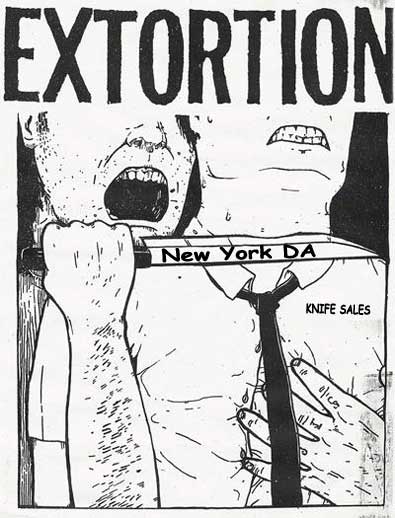 Among the dozen or so businesses that have reported to have been targeted in New York City are Eastern Mountain Sports, Orvis, Paragon Sports, Lowe's and Home Depot. At least one out-of-state Internet retailer has been targeted. No public release of details has yet been made
The six-figure so-called "contributions" are being made to a "public education fund" controlled by the DA in order to secure "deferred prosecution" agreements to avoid threatened criminal charges. Additional outrageous and over-reaching demands have also apparently been made to avoid prosecution.
Said Ritter, "This appears to be little more than extortion on the part of a District Attorney who appears determined to shake down honest businesses and remove from the New York market common tools used daily by New Yorkers in their homes, in business and while recreating. These are simple pocket knives, legitimate tools used every day by millions of law-abiding Americans."
Knife Rights' attorneys have been in contact with some of these companies and their lawyers. The DA seems primarily interested in bludgeoning these knife dealers into submission. Not all his targets have agreed to terms and Knife Rights is working to protect these retailers and their customers from this outrageous abuse of power.
The businesses shaken down so far have agreed to "cooperate," agreed to onerous terms of dubious merit and agreed to pay substantial so-called "contributions" to avoid further difficulties and risk even more significant defense costs and potential criminal penalties and fines, as unwarranted as they might be. To these corporations and business owners, it appears they view this shakedown by the DA as simply a cost of doing business in New York City.
Said Ritter, "we expect to see this sort of corrupt behavior by the government in third-world countries, not in America. New Yorkers and all Americans should be outraged by this behavior."
Knife Rights urges any knife dealer who has already been served by the New York County DA to contact us immediately.
Based on information obtained so far, Knife Rights believes this may be only the first wave of such attacks on knife dealers by this DA, both in New York and elsewhere. We urge any knife dealer who is served papers, arrested or whose stock is seized by the DA to please contact us immediately. Knife Rights is prepared to assist dealers in fighting this reprehensible action by the DA.
Knife Rights is monitoring this situation in New York City vigilantly and will follow-up with more details as we can release them.
Knife Rights may be contacted at: [email protected] or toll-free: 1-866-889-6268