Beyerle & Beaman Win the First American Medals at the ISSF World Cup USA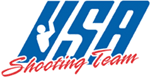 FORT BENNING, GA –-(Ammoland.com)- The USA Shooting Team's Jamie Beyerle (Lebanon, Pa.) defeated Eva Friedel of Germany and Li Peijing of China in an epic come-from-behind victory at the International Shooting Sport Federation (ISSF) World Cup USA in Fort Benning, Ga.
Beyerle entered the final in the fourth position with 585 qualification points. With the leader (Annik Marguet of Switzerland) three points ahead of Beyerle, her chances were growing slim with every shot.
Even though the competitors were challenged by the wind in the finals, Beyerle astounded the crowd as she buried a 10.8 for her final shot. Her competitors all marked mid 9s and 8s for their final shots, so Beyerle's deep ten was golden.
National Rifle Coach Major Dave Johnson said, "Jamie has continued to build her resume and experience. She was patient in what could have been a very frustrating day in challenging wind and that discipline paid off on the last shot for a dramatic gold medal." Beyerle finished with 98.2 points in the final for 683.2 total points.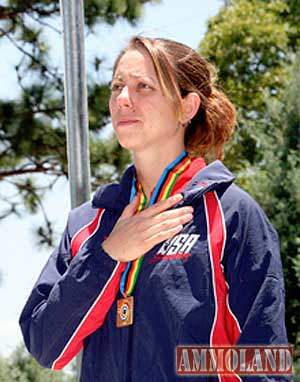 This win makes it her second ISSF World Cup medal in Women's 50m Rifle Three Position. Fridel won the silver medal just one-tenth behind Beyerle at 683.1 points (587+96.1) and Li picked up the bronze with 683 total points (586+97). American teammates Amanda Furrer (Spokane, Wash.) finished in seventeenth place with 580 qualification points and Sarah Beard (Danville, Ind.) shot 571 points.
The day continued to shine as Brian Beaman (Selby, S.D.) won the bronze medal in Men's 10m Air Pistol. Beaman, the 2010 Championship of the Americas gold medalist (and quota winner) in his specialty event, entered the final with 586 qualification points and shot 100.6 points in the final for 686.6 total points.
When asked about his victory, Beaman said, "I feel like I was finally able to overcome a lot of the adversity in this sport and I now have a solid inner confidence that allowed me to excel today."
Russian Leonid Ekimov, who finished ninth at the 2010 ISSF World Championships in this event, entered the final in the middle of the field. Nailing ten after ten, Leonid shot his way up to victory with the highest final of 104.2 points. Leonid finished with 689.2 total points. Portugal's Joao Costa climbed his first ISSF podium since the 2009 season to win the silver medal with 587 qualification points and 100.8 points in the final for 687.8 total points. American Anthony Lutz (Tonganoxie, Kan.) finished with 571 points and teammate Sergeant First Class Thomas Rose shot 570 points.
For all scores and results, please visit the ISSF Website. www.issf-sports.org
ELEYELEY is a Proud Sponsor of the USA Shooting Rifle and Pistol Teams: ELEY Limited, manufacturer of the world's most consistently accurate rimfire ammunition, has been the Official Sponsor and Official Supplier of .22 rimfire ammunition of the USA Shooting rifle and pistol teams since 2000. For more information on ELEY and their products, please visit www.eley.co.uk.
About USA Shooting:
USA Shooting, a 501c3 non-profit corporation, was chartered by the United States Olympic Committee as the National Governing Body for the sport of shooting in April 1995. USA Shooting's mission is to prepare American athletes to win Olympic medals, promote the shooting sports throughout the U.S. and govern the conduct of international shooting in the country. Check us out on the web at www.usashooting.org and on Twitter at twitter.com/USAShooting.