Shooting The Bull – By Gun Facts Now in Print
Washington, DC –-(Ammoland.com)- Shooting The Bull, my new book that eviscerates the gun control industry, is now released and available (both print and electronic formats).
Foremost, Shooting The Bull is a field guide to identifying political lies in real-time. Using the gun control industry as my case study throughout, I show how political misinformation is formulated and spread. Even if you are an ardent gun rights activist, you likely missed how the gun control industry manufactures propaganda and why it has been effective. Seeing case study examples – and the resulting Catalog of Canards, a list of misinformation tactics – will show how you may have been mislead about other political issues.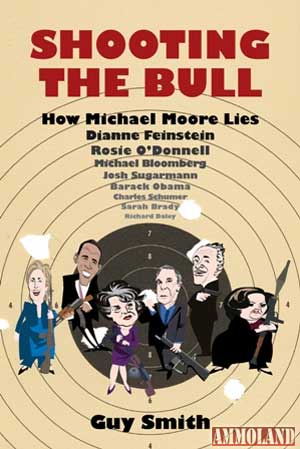 It is available at:
Barnes and Noble (both online and in those old fashioned stores)
iPads and iPhones (see your iBookStore app)
Most importantly, the book drives a long and rusty nail into the coffin lid of the gun control movement. For over a decade, Gun Facts has been dedicated to debunking gun control myths. Shooting The Bull is designed to eradicate the credibility of the Brady Campaign, the Violence Policy Center, Michael Bloomberg and all the other operatives, tying their activities back to Barack Obama's Joyce Foundation (the gun control industry would go broke in a month without the Joyce's). Be sure to send/lend a copy to anyone who isn't sure about gun control … this book will shift them to our side.
For Facebook users, please drop by the Shooting The Bull fan page and click on the "Like" button, then "share" that page with your friends. Facebook is a powerful tool for spreading the word. If you buy from Amazon or even drift past the Amazon page for Shooting The Bull, click on their Facebook "like" button.
Drop by any of the retailers listed above and get your copy today. If you represent an organization, I can arrange for you to get the wholesalers' discount for bulk orders (twenty or more copies – email me at [email protected]).
Yours in Liberty
Guy Smith
About:
Gun Facts offers a free e-book that debunks common myths about gun control. It is intended as a reference guide for journalists, activists, politicians, and other people interested in restoring honesty to the debate about guns, crime, and the 2nd Amendment. Visit www.gunfacts.info