Cam Hughes & Jim Brown Receive Knife Rights Freedom's Point Award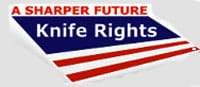 Gilbert, AZ –-(Ammoland.com)- Knife Rights is pleased to announce that Cam Hughes and Jim Brown are the recipients of its Freedom's Point Award which was presented at the Knife Rights Sharper Future Awards Breakfast on June 11th during BLADE Show in Atlanta,
Georgia. Mr. Hughes and Mr. Brown are principals of Blade HQ, a knife retailer based in Utah.
The Freedom's Point Award is to be given annually to honor an individual citizen or citizens who has/have demonstrated their commitment to a Sharper Future by leadership in the fight to protect or enhance our knife rights.
Knife Rights Chairman Doug Ritter said, "Cam and Jim are being recognized for stepping up to support Knife Rights' Knife Law Preemption Bill in Utah, which support made it possible for Utah to become the second state in the nation to enact Knife Preemption. Legislative opportunities sometimes require quick action to take advantage of windows of opportunity and when that happened in Utah, it was an equally quick response by Cam and Jim that helped us to achieve success."
Preemption prevents the creation of, or eliminates, a patchwork of ordinances and rules which serve to confuse or entrap those traveling within or through the state.
A person traveling in a state without preemption laws could be charged with a violation of local law when they have no intention of violating the law. Preemption ensures citizens only have to know and abide by state law.
About:
Knife Rights (www.KnifeRights.org) is America's Grassroots Knife Owners Organization, working towards a Sharper Future for all knife owners. Knife Rights is dedicated to providing knife owners an effective voice in public policy. Become a Knife Rights member and make a contribution to support the fight for your knife rights. Visit www.kniferights.org