Pyramyd Air Develops Iphone & Droid Apps For Airgun, Firearm and Airsoft Shooters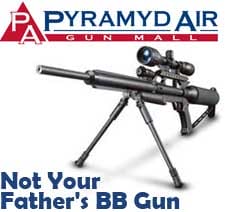 Warrensville Heights, OH – -(Ammoland.com)- Pyramyd Air, the world's largest online airgun retailer, has developed two new phone apps for airgun shooters and airsoft shooters.
Available for iPhones (http://tiny.cc/huxfm) and Droids http://tiny.cc/huxfm), the free Pyramyd Air Wizard makes complex calculations that shooters need so they can extract the best from their guns and ammunition.
The apps calculate muzzle energy and velocity from muzzle energy; they convert foot-pounds to joules and joules to foot-pounds, grams to grains and grains to grams, pounds to pounds and ounces, feet to yards, yards to feet, meters to yards, yards to meters, Fahrenheit to Celsius, Celsius to Fahrenheit, FPS (feet per second) to MPS (meters per second) and MPS to FPS. Most of these calculations are useful across the board for all gun types — airguns, firearms and airsoft.
For airsoft guns, the apps have additional computations including determining joules, meters per second, feet per second, kilometers per hour and battery time for auto-electric guns (AEG).
Pyramyd Air sells airguns, accessories and ammo from AirForce Airguns, Air Arms, Air Venturi, Beeman, Benjamin, Beretta, Browning, Colt, Crosman, Daisy, Eun Jin, Evanix, Feinwerkbau (FWB), Gamo, Hammerli, Heckler & Koch (HK), IZH-Baikal, Magnum Research, Makarov, Marksman, Mendoza, Remington, Ruger, RWS Diana, Sam Yang, Sheridan, Smith & Wesson (S&W), Sumatra, Tanfoglio, Umarex, Walther, Webley, Weihrauch, Winchester and others.
Pyramyd Air provides professional product videos from Airgun Reporter Paul Capello (www.pyramydair.com/video) and a daily blog, Pyramyd Air Report (www.pyramydair.com/blog), written by Tom Gaylord, a.k.a. B.B. Pelletier, a world-renowned airgun writer, expert and consultant. They also provide instructional videos at Airgun Academy (www.airgun-academy.pyramydair.com/video) and airsoft videos on their other YouTube channel (www.youtube.com/pyramydairsoft).
About:
Pyramyd Air sells airsoft guns, accessories and ammo from A&K, Aftermath, Beretta, Bushmaster Airsoft, Caspian, Classic Army, Colt, Crosman, Cybergun, CYMA, DMA, Echo 1 USA Airsoft, Firepower, GameFace, GSG, Heckler & Koch, HFC, ICS, JAG Precision, KJ Works, KSC, Magnum Research, RAM Paintball, Remington, Ruger, SIG Sauer, Smith & Wesson, SRC, Tactical Force, Tanfoglio, Thompson, Tokyo Marui, TSD, UHC, UTG, Walther, WE and Well. Visit: www.pyramydair.com