Coach, Can I Get My Pin Now – 4H USA Shooting Passport Program
By Michael Theimer, Youth Programs and Athlete Development Manager
FORT BENNING, GA –-(Ammoland.com)- A few years ago USA Shooting's Passport program was established in partnership with 4-H.
It is designed to reward junior athletes for achieving the next level of skill in rifle, pistol or shotgun. It's an excellent tool for motivating juniors.
I was talking to one 4-H club coach, Kevin Henry about the success of the Passport program at this club and asked him to write an article about their experience. Here is an example of just one 4-H club's experience.
"Coach, can I get my pin now?" I looked up from scoring targets to find Cameron, one of our young air rifle shooters standing in front of me. I smiled and replied, "Well, if you can you wait until the end of practice, we will make a presentation in front of everyone." He paused to think about it, and then with a little bit of impatience said, "Alright".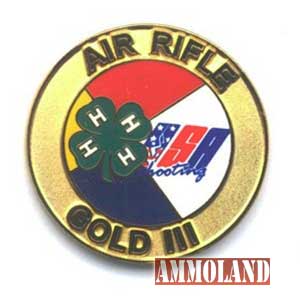 Just three weeks earlier we introduced the USA Shooting Passport Pin program to our shooters. During those three weeks, Cameron was on a mission. He worked really hard to get the required score; getting very close a couple of times, but not quite close enough. When he finally did reach his goal to get his first pin, there was no doubt he knew that he had worked for and achieved something that had stretched him.
I am exactly one half of our coaching staff at our local 4-H club. We are a young club, both in longevity and shooting experience.
We only have some basic entry level equipment and our shooters are just starting to go to their first matches. We practice in "The Barn"; a metal building with a concrete floor but no air conditioning to combat the Texas heat. Show goats, pigs, and an occasional steer live directly behind the barn. From time to time the wall behind our backstops will rattle from a kick or head butt. This usually is followed by a round of giggling from the younger shooters. We use these random distractions as part of our "Mental Conditioning and Focusing Program" to learn how to block out distractions at a match. The barn actually is quite nice as it gets us out of the sun and wind. We are grateful to be able to use it.
Our shooters don't have the benefit of looking to older, more experienced shooters to see how they are doing. All they get to see every week are their own scores; they have nothing else to compare their results to. As the coach, I find it difficult to find ways to stretch them. The USA Shooting Passport Pin program gives us some easy to use tools to grow our shooters. The bite sized increments of the scores in the program give us attainable and realistic goals to work toward. Everyone can see what they need to do in order to advance to the next level.
Every time someone earns their next pin, we make as big of a production out of it as we can. We gather everyone we can find: shooters, coaches, and parents. We even had a goat try to get in once. One of the coaches announces what pin they have won, congratulates them and then we always take a picture and applaud. Every pin so far has produced a proud smile.
Recently we took one of our best shooters, Allie, to a Junior Olympic match that was held at a local university. This was the first match she has ever been in. She was shooting a sporter air rifle in a precision event wearing blue jeans and tennis shoes. Even though she needs a lot more experience and equipment to get up to the level of the top shooters, she rose to the occasion, beat her personal best, and earned her next pin. I didn't tell her before the match, but I had her next pin in my pocket already. After the match, we stood by the university flag and her father took a picture of her with her smile and new pin.
When asked about it later, Allie said "It was a pleasant surprise when I scored high enough to receive my first pin!"
Back at the Barn, after one of our award ceremonies, our newest member eyed his fellow shooters newly awarded pin and asked "what is the highest pin there is?" You could see a look of determination in his eyes already.
Kevin Henry lives in Fort Worth, Texas with his wife and 2 daughters, age 9 and 11. He is one of the coaches at the Eagle Mountain 4H Club in nearby Saginaw, Texas. Both daughters are in the 4H shooting club.
Thanks for sharing this with our members and supporters, Kevin. We look forward to seeing your juniors achieve higher goals. And with your help and guidance, maybe even a future Olympian.
You can order your Passports and pins from the 4H National Supply Service: http://www.4-hmall.org/Home.aspx
Michael Theimer, Youth Programs and Athlete Development Manager ([email protected])
I would like to announce that we are partnering with Target Talk (www.targettalk.org) to be 'the' bulletin board/forum for buying, selling and trading used Olympic/international shooting equipment and guns. Also, I will be monitoring and contributing to the Youth Programs forum. Stop by for a chat and learn from other junior shooting coaches across the country.