Showcasing Winchester Beginnings at Rock Island Auction Company
by Andrew Padavich, RIAC Describer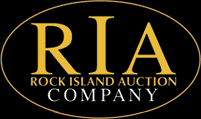 Moline, IL –-(Ammoland.com)- Every story needs a beginning, an established point in time at which something starts. It is a beginning that allows a story to move forward and evolve.
The beginning of the Winchester Repeating Arms Company started with inventor Walter Hunt's 1848 "Volition Repeating Rifle" and its caseless "Rocket Ball" ammunition.
Hunt was a prolific inventor who invented the safety pin, lockstitch needle and fountain pen. But for the Winchester story to begin we need to focus our attention on U.S. Patent 6663 which was granted to Hunt in 1849.
The patent is for Hunt's .54 caliber tubular magazine rifle, the "Volition Repeater". The rifle used a coil spring to operate the firing pin and a trigger forced a cartridge into the barrel chamber by moving the breech bolt rearward. Essentially, the trigger design was the ancestor of the lever action of later arms. The rifle also used Hunt's own patented loaded bullet which he called "Rocket Balls". This type of ammunition was loaded with powder and to prevent the powder from escaping, the bullet was capped with a cork wad covered in paper which had a flash hole in the center. Only one Hunt rifle is known to have been produced and that rifle now resides in the Cody Firearms Museum.
In December 1849, Lewis Jennings received U.S. Patent 6973 for his improvement of the Hunt rifle design. Jennings' improved version of Hunt's rifle was manufactured in small numbers by Robbins & Lawrence of Windsor, Vermont, and was a commercial failure. Smith & Wesson of the Horace Smith and Daniel Wesson partnership of Norwich, Connecticut, acquired Jennings' improved version of the original "Volition Repeater". Financially aided by New York financier Courtlandt C. Palmer who originally purchased the manufacturing rights of the failed Jennings rifle, Smith & Wesson began to produce their version of the improved repeater in June of 1854. In July 1855, Smith & Wesson and Palmer formed the Volcanic Repeating Arms Company in order to manufacture a line of lever action carbines and pistols. Volcanic continued to improve the Rocket Ball type ammunition and the lever action guns that fired it.
As an investor in Volcanic, Oliver F. Winchester was elected a director of the company in 1855 and in the coming years played a pivotal role the evolution of the lever action firearm. In 1856 Volcanic became insolvent with the bankrupt firm's assets being purchased by Oliver Winchester who soon reorganized it as the New Haven Arms Company. Under Winchester's leadership, New Haven took a strong interest in developing new types of cartridges for leaver action firearm. As an employee of New Haven, Benjamin Henry perfected the self-contained metallic rimfire cartridge.
The .44 Henry, as it was known, was much larger and more powerful cartridge to be used in lever action arms. Under Henry's supervision, a new rifle loosely designed on the Volcanic repeaters was manufactured to accept the new .44 Henry cartridge. The result was the Henry Rifle of 1860 and the success of the rifle established New Haven in the lever action repeater firearms market. In May 1866, the New Haven Arms Company was renamed Winchester Repeating rifle Company. Continuing on its success with the Henry Rifle, Winchester introduced the Model 1866, Model 1873, and Model 1876 Lever Action Rifles. Winchester produced some of the earliest repeating rifles that were popular among Western settlers, forever solidifying the Winchester name to "The Gun that Won the West". (For more Winchester history see, for example, George Madis' The Winchester Book.)
This December auction has some of the earliest examples of firearms associated with Winchester heritage. There are several Volcanic Pistols. Serial number 2123 is a deluxe factory engraved New Haven Arms Volcanic No. 2 Navy Pistol fitted with relief carved ivory grips. The two piece ivory grips feature a relief carved Mexican Eagle and Serpent motif inside an oval and the brass receiver has a deluxe scroll engraving with the tight and detailed scrollwork extending the back strap and butt and a small flourish of scrollwork on the underside of the receiver below the cartridge elevator.
The sideplates having oval inscription panels featuring relief engraved borders. If you are looking for a standard New Haven Volcanic No. 2 Navy Pistol, check out serial numbers 2471 and 2026. These are two of the 700 to 1000 No. 2 Navy Pistols that are believed to have been produced by New Haven. Serial number 1470 is a Navy Pistol manufactured by Volcanic Repeating Arms Company, making it one of approximately 1500 Navy Pistol manufactured with an 8" barrel before the company was reorganized as the New Haven Arms Company. Interested in a New Haven Volcanic No. 1 Pistols? This December auction has two: serial number 484 and serial number 1420. Note that serial number 1420 has a 3 ½" barrel and serial number 484 has a 6" barrel. Total production of the No. 1 Pistol with a 3 ½" barrel is estimated at 850 and total production of the No. 1 pistol with a 6" barrel is estimated ate 225.
There are also Volcanic Carbines in the December sale. Serial number 2715 is a factory engraved example featuring large open type scrollwork on the receiver, upper receiver tang and buttplate heel. The engraving is very similar to the engraving on the Volcanic pistol (serial number 1159) pictured on page 9 of R.L. Wilson's Winchester Engraving. Serial numbers 158 and 10 are examples of the standard New Haven produced Volcanic Carbine. And like the pistols, the carbines are also a scarce historical firearm with approximately 1000 carbines being produced from 1857 to 1860.There are also several examples of Henry Rifles. Serial number 5011 is a factory engraved example with an engraving similar to that pictured in R.L. Wilson's Winchester Engraving, page 23. The front receiver panels feature large floral designs in double bordered panels with scalloped edges. A hunting dog on point surrounded by open scrollwork is engraved on the left side plate. Scrollwork flourishes are present on the top and sides of the receiver and upper tang. The buttplate heel has a scroll engraving with a star burst on the butt trap. For a standard example of a Henry Rifle see serial numbers 9461 and 2902. Interested in a U.S. contract Hew Haven Arms Henry Rifle? See serial numbers 3526 and 3919.
These two Henry Rifles were part of an 800 rifle order purchased by the Ordnance Department to arm the 1st District of Columbia Cavalry Regiment. The rifles were stamped with the C.G.C. initials of Ordnance Sub-Inspector Charles G. Chapman on the right side of the barrel and script C.G.C. initials on the stock wrist. During the Civil War, the 1st D.C. Cavalry had the distinction of being the only Federal unit to be completely equipped with Henry Rifles.
This December Rock Island Auction Company is fortunate to be offering our clients several different examples of Volcanic pistols and carbines and Henry Rifles.
If you are a Winchester collector this is not the auction to miss. In the next few months you will want to pay close attention as this December auction will certainly be offering more examples of early Winchester heritage.
About:
Rock Island Auction Company has been solely owned and operated by Patrick Hogan. This company was conceived on the idea that both the sellers and buyers should be completely informed and provided a professional venue for a true auction. After working with two other auction companies, Mr. Hogan began Rock Island Auction in 1993. Rock Island Auction Company has grown to be one of the top firearms auction houses in the nation. Under Mr. Hogan's guidance the company has experienced growth each and every year; and he is the first to say it is his staff's hard work and determination that have yielded such results. Visit: www.rockislandauction.com