Surprising New 1911s In The Jan. – Feb. Issue Of American Handgunner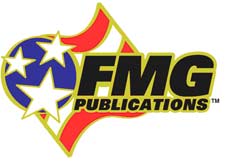 San Diego, Calif. –-(Ammoland.com)- The January/February issue of American Handgunner looks at new SIG SAUERs, the Academy of Excellence winners, last-minute Christmas gifts and more.
In John Taffin's "SIG SAUER's Stunning Scorpions," he writes about two of SIG SAUER's new handguns — the 1911R Scorpion and the P229R Elite. The standard Scorpion comes loaded with what are normally custom features.
"The gun itself is quite easy to operate, performs flawlessly and shoots more accurately than .40s are supposed to, at least by their reputation," says Taffin of the P229R Elite.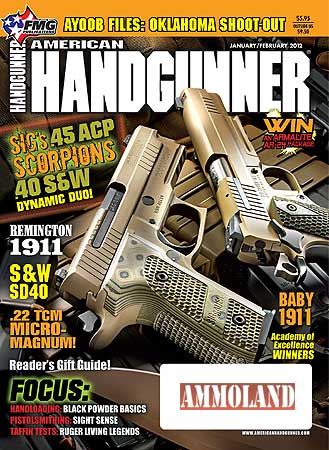 The Remington 1911 R1 might look like a retro throwback, but gone are the rattling and sharp edges of older 1911 pistols, replaced by a well-fitted slide and handsome grips, which when combined with accuracy, make this 1911 great for a cowboy shooter getting into Wild Bunch shooting.
The January/February issue also showcases the 2011 Shooting Industry Academy of Excellence product award winners. This gear was voted the best of the year by those in the industry.
For those who haven't gotten all their Christmas shopping done yet, John Connor's "American Handgunner Christmas Guide: It's Not Too Late to be a Super Santa!" will come as a relief. He reveals his Christmas picks for this year that will make shopping easier.
Readers have a chance to win an AR-24 9mm Tactical Custom full-size pistol as the Jan./Feb. Gun of the Month. Also included in the package are GS-3PL pistol gloves from GripSwell, the world's first fireproof gun case from Fire.pod, Building World Class Pistol Skills DVD from Panteao Productions and the PDT knife from Escala Industries.
Continue to follow Mike "Duke" Venturino's 12-part series on the Genesis of the Colt Single Action with "Part 11: Colt Single Action Leather," available exclusively on the American Handgunner website at www.americanhandgunner.com.
American Handgunner's all-digital edition is reaching more readers than ever. It includes a number of bonus features, including expanded content, hotlinks and search options. To sign up for a free digital subscription, visit www.americanhandgunner.com.
For more information on American Handgunner and to read the January/February issue, visit www.americanhandgunner.com.