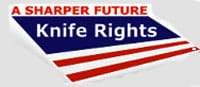 Gilbert, AZ –-(Ammoland.com)- Indiana State Senator Jim Tomes has a holiday gift for us, Senate Bill SB06 which would repeal Indiana's antiquated and irrational ban on the sale and possession of switchblades.
The bill is supported by Senator Brent Steele, Chair of the Corrections, Criminal and Civil Matters Committee that will hear the bill, and Senator Johnny Nugent.
Knife Rights will be present to testify in support of SB06 at the bill's first hearing on January 10th. If you live, work or travel in Indiana, please contact your Senator and ask them to support SB06.
You can locate your Senator, or the Senator who represents where you work or travel, here: https://district.iga.in.gov/DistrictLookup/
About:
Knife Rights (www.KnifeRights.org) is America's Grassroots Knife Owners Organization, working towards a Sharper Future for all knife owners. Knife Rights is dedicated to providing knife owners an effective voice in public policy. Become a Knife Rights member and make a contribution to support the fight for your knife rights. Visit www.kniferights.org