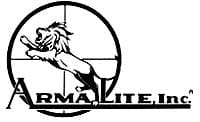 Geneseo, IL – -(Ammoland.com)- ArmaLite's new high-precision rifle is just like the AR-50A1, but chambered and re-barreled to accept the .416 Barrett cartridge.
Because of that, the AR-50A1-.416 Barrett boasts the same ArmaLite patented V-Lock Bedding Wedge and V-Block Stock that assure absolute strength and repeatability for superb accuracy.
The aluminum stock reinforces the receiver like a bench-rest sleeve.
Added to all of that is the famous .416 Barrett cartridge, which contains a .416 caliber projectile capable of sustaining supersonic speeds out to the 2,000 yards, which is the key to achieving long range accuracy. The .416 Barrett cartridge uses a lighter, narrower bullet that was designed using low supersonic drag equations and results in a significantly high muzzle velocity and exceptional ballistic performance.
Independent testing has proven the ArmaLite AR-50A1 muzzle brake to be the best in the industry for both recoil control and accuracy. The AR-50A1-416 has the exact same muzzle brake. The brake scrapes away turbulent muzzle gasses and lets the bullet break into clean air for amazing accuracy. The soft recoil means even the smallest of shooters, or the most recoil-sensitive, will enjoy shooting the rifle.
THE AR-50A1-416 IS LEGAL TO SELL AND OWN IN THE STATE OF CALIFORNIA.
Caliber: .416 Barrett
Barrel: 30″ Chrome Moly, 8 Groove
Rifling Twist: RH 1:12″
Muzzle Device: Highly Efficient Muzzle Brake
Trigger: Single Stage Trigger
Overall Length: 58.5″
Weight: 34.7 LBS
Included with Rifle: 15 Minute Sight Base, Owner's Manual, Ear Plugs, Limited Lifetime Warranty
FOR MORE ON THE AR-50A1 .416 BARRETT, GO TO http://tiny.cc/sk9anw
ArmaLite AR-50A1 .416 Barrett Rifle Flyer
ABOUT ARMALITE:
ArmaLite has one of the broadest product lines in the firearms industry. We manufacture and sell semiautomatic rifles in a variety of calibers including 5.56mm and 7.62mm, long range super-accurate bolt action rifles in calibers including .300 Winchester Magnum, .338 Lapua, .50 BMG and classic 9mm pistols. Visit ArmaLite at www.armalite.com.