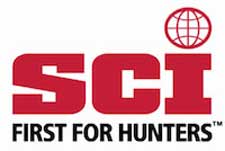 USA –-(Ammoland.com)- Planning a safari is unlike the planning for most of your travels. The preparation and anticipation of the actual trip can be almost as exciting as the safari itself.
In a world where nature reigns, one must be prepared.  The first stop on your adventure begins at the "Your First African Safari" seminar to be held during the 41st Annual  SCI Hunters' Convention in Reno, Nevada held January 23-26, 2013.
SCI's longest-running seminar, moderated by Craig Boddington and hosted by the leading experts in their fields, "Your First African Safari" is a panel discussion intended for hunters in any stage of planning their first African safari.  Panelists include:
Beverly Wunderlich, owner of B&J Adventures and Safaris
Beverly is a veteran hunting consultant on pros and cons of booking through an agent rather than direct. She will also discuss the details: paperwork, making flight arrangements and shipping trophies.
Ludo Wurfbain, owner of Safari Press and Publisher of Sports Afield Magazine
Ludo will suggest what to read before, during and after your safari.
Johan Calitz, legendary African outfitter and PH
Johan will discuss what outfitters and PH's expect from clients, and what you should expect from them.
Jack Atcheson, Jr., experienced outfitter and former taxidermist
Jack tells how to get the best mounts of your African trophies.
Craig Boddington, world renowned hunter, writer, book author and TV host.
Craig will cover guns and loads, shooting tips, and equipment for safari.
Please visit http://www.showsci.org/static/Members/?Action=Sem to see a full list of seminars.
To learn more about the 41st Annual Hunters' Convention events and register for the convention, visit www.ShowSCI.org. Tickets for the 2013 convention are being sold faster than any show in SCI history.