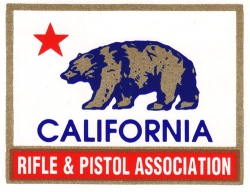 Sacramento, CA –-(Ammoland.com)-CRPA can use your help. We're looking for volunteers to assist in manning our CRPA table at the upcoming Santa Barbara Historical Arms & Blades Show.
If you can help for even a few hours on either Saturday or Sunday, please call George Emmerson at (818) 523-7586 or e-mail him at [email protected]
Dates: Feb 9 – Feb 10, 2013
Directions: Earl Warren Showgrounds
City/State: Santa Barbara, CA
Hours:
Saturday 9:00am – 5:00pm
Sunday 9:00am – 3:00pm
Admission:
General: $8.00
Ages 16-18: $2.00
Under 16: Free
All minors must be accompanied by parent or legal guardian.
Early bird entry available, Friday $15 and Saturday $10
Description: The Santa Barbara Historical Arms & Blades Show will be held on Saturday, February 9th through Sunday, February 10th, 2013. The Santa Barbara Gun Show will be held at the Earl Warren Showgrounds and is hosted by the Santa Barbara Historical Arms Association of California.
Promoter:
Santa Barbara Historical Arms Association
Phone: (805) 646-6290
Email: [email protected]
Website: https://www.sbhaa.org/
Venue:
Earl Warren Showgrounds
3400 Calle Real
Santa Barbara, CA 93105
Vendors:
240 Tables Available
Aisle Table: $70
Wall Table: $75
Display Table: $50
80% of items to be gun, knife or western-related.
About:
The California Rifle and Pistol Association "CRPA," founded in 1875, is dedicated to defending the rights of law-abiding citizens to responsibly use firearms for self-defense and the defense of their loved ones, for sport, and for all other legal activities. CRPA is the official state association of the National Rifle Association. A California non-profit association, CRPA is independently directed by its own Board of Directors. CRPA's members include law enforcement officers, prosecutors, professionals, firearm experts, the general public, and loving parents. CRPA has always worked to reduce the criminal misuse of firearms and firearms accidents, while actively promoting and organizing the competitive shooting sports and Olympic training programs in California. We are proud to say that many CRPA competitors are among the best in the world. Visit: www.crpa.org