Prizes Awarded for Top Runs.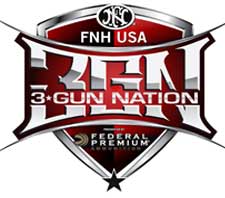 USA –-(Ammoland.com)- DoubleStar Corporation, in partnership with 3-Gun Nation, is running a side event during this year's SHOT Show Media Day at the Range on January 14 at the Boulder Pistol & Rifle Range in Boulder City, Nevada.
The DoubleStar/3-Gun Nation Writers Challenge will give industry writers the opportunity to run a rifle, shotgun and pistol on a 3-gun stage, with prizes awarded to the top 10 competitors.
Competitors will use the new DoubleStar 3GR rifle, Benelli M2 shotguns, and FNH USA FNS-9 pistols.
All ammunition is provided by Federal Premium Ammunition. Firearms will be staged on separate tables; at the buzzer, the shooter will run to each table, and engage targets from MGM Targets. The lowest time wins the event.
Prizes will be awarded to the top finishers, including guns from DoubleStar, FNH USA and more. Random prizes from BLACKHAWK! will also be drawn from the field of competitors.
The DoubleStar-3-Gun Nation Writers Challenge is sponsored by DoubleStar Corporation, SHOT Show Media Day at the Range, Benelli USA, FNH USA, Federal Premium Ammunition, BLACKHAWK!, MGM Targets, Action Target, Kahles and Samson Manufacturing.
All prizes will be awarded at the DoubleStar SHOT Show booth (#20063).
DoubleStar/3GN Writers Challenge Prizes
DoubleStar 3GR, with Kahles Optic
Benelli M2 Tactical
Benelli M2 Tactical
FNH USA FNS-9
FNH USA FNS-9
DoubleStar .300 Blackout Upper
Samson Competition Rifle Upgrade Kit
BLACKHAWK! Operator Watch
BLACKHAWK! Enhanced Pro Shooters Bag
Ace Limited ARFX Stock