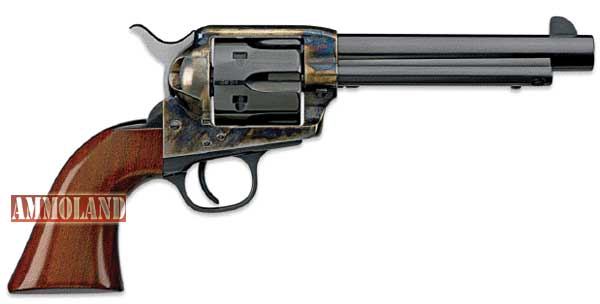 ACCOKEEK, MD –-(Ammoland.com)- Uberti is pleased to introduce a new line of single-action army revolvers called the Horseman series.
These are Colt 1873 replicas that incorporate a modern transfer-bar safety system.
The fit, feel and finish of the Horseman is similar to the old west models, but with improvements that make the gun stronger and easier to handle.
The transfer-bar combined with a coil main spring provides durability and reliability that the cowboys of yesteryear would love to have had.
Besides the inclusion of the modern transfer-bar safety system, the Horseman embodies other upgraded features; including a wider trigger, and a smoother, crisper trigger pull. These upgrades provide modern advances and variations to the current models that make the Horseman one of the best single-action revolvers on the market today.
"There are other single-action revolvers with transfer bar safeties on the market," said Stephen McKelvain, Benelli USA's VP of Marketing. "But if you desire one that has the classic look, fit and feel of the original 1873 Colt Single Action Army, the new Uberti 1873 Horseman is the only choice."
COMMON SPECIFICATIONS:
Calibers: .357
Mag; .45 LC
Cylinder: 6-shot, fluted
Number of Grooves: 6
Twist: Right *
Total Length: 11″ *
Weight: 2.3 lbs.
Finish: Blue Grip: 1-pc Walnut
Barrel Lengths: 4¾", 5½", 7½"
MSRP: $559
*Varies according to barrel length
For more information on the full line of A. Uberti products go to www.uberti.com