U.S. AMU Soldier Assumes Early Points Lead, Wins $5K from SureFire
By Chad Adams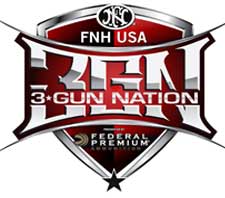 GLENGARY, WV –-(Ammoland.com)- This one was essentially over as soon as it started.
U.S. Army Marksmanship Unit's Daniel Horner posted the most dominating win thus far in the FNH USA 3-Gun Nation Pro Series, Presented by Federal Premium, with a 10-second victory over second place Keith Garcia at Peacemaker National Training Center here recently.
Fifty-two Pro Series competitors battled in the opening match of the season, presented by match title sponsor SureFire, with $10,000 in cash prizes up for grabs to the top three finishers. Horner kicked off his 2013 3GN Pro Series campaign in style by winning three of six stages, including a tone-setting first stage in which he built an eight-second lead over Garcia. The win netted Horner a check for $5,000, courtesy of SureFire.
Garcia, the reigning 3GN Champion, rallied to win stage two before finishing second on four consecutive stages to inch a bit closer for the sixth and final stage. However, the lead proved too much, as Horner merely coasted through the final stage to claim his second 3GN Pro Series win. Garcia received a runner's up check of $3,000 from SureFire.
Adam Popplewell finished third, good for a check for $2,000 from SureFire, followed by James Casanova and Taran Butler. Clint Upchurch was sixth, followed by Kalani Laker, Tyler Payne, Ravin Perry and Tommy Thacker. The entire field received cash payouts in descending order, while Casanova, Upchurch, Laker, Payne and Perry all received Leupold VX-6 Multigun scopes for their Top 10 finishes.
West Virginia also marked the debut of the 3GN Lady Pro Series, presented by Samson Manufacturing. In only her second year of 3-gun, Lena Miculek posted her first 3GN Lady Pro Series win, knocking off her mother, Kay, who finished second, followed by Dianna Liedorff, Maggie Reese, Karla Herdzik, Megan Snyder, Sharon Griffin and Deb Cheek.
"I think the first 3GN Lady Pro Series match was fantastic," said Andrew Dreher, Samson Manufacturing. "We have a great group of ladies, they shot extremely well. Better yet they are great ambassadeurs for the sport. Samson Manufacuting is extremely excited about this season and proud to support the 3GN Lady Pro Series."
For more in-depth coverage of the 3GN Pro Series and 3GN Lady Pro Series, check out the May edition of 3GN Magazine. www.3gunnation.com