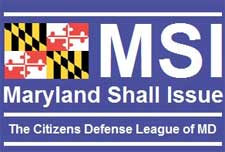 Maryland ––(Ammoland.com)- On Friday, 29 March 2013, the representatives on the Joint House Committee bowed to heavy pressure from Governor O'Malley and passed SB281 out of committee with limited changes.
Every Pro-2A amendment was defeated, even those that passed.
Yes, you heard me right — even the amendments that passed were defeated.
Delegate Smigiel proposed an amendment to the bill that would deny time off for good behavior to any criminal who used a firearm in the commission of a crime. The amendment passed 24-21. Chairman Vallario then called a break in the hearing.
Delegates were hustled into the back room by the Governor's whips. Moments later, the Delegates returned and the amendment was voted on for a second time. With the Chairman's vote included, the bill was defeated in a tie vote of 23-23.
The only part of the legislation that would punish those who commit gun violence was stripped from the bill and barred from further consideration.
The anti-gun representatives on the committee and the Governor's staff have shown their true colors. This bill has nothing to do with criminals. They will use any tactic within their power to restrict the rights of citizens rather than hold those who actually commit violent crimes in Maryland accountable for their actions.
SB281 is nothing more than an outright attack on the civil rights of law-abiding Maryland gun owners.
We expect SB281 to be special ordered to the House today, Monday, 1 April 2013, with voting scheduled for as early as Tuesday. It must be voted on by both the House and Senate over the next few days.
The fight is not over by any means.
We need to let them know that we will not stand down and allow them to attack our civil rights without repercussions.
We need members to be in the galleries and halls of Annapolis starting on Tuesday.
Call/Visit your Representatives in Annapolis today.
We are watching. They will have to defend their votes. We will be there and we will remember.
Maryland Shall Issue, Inc.
1332 Cape Saint Claire Road #342
Annapolis, Maryland 21409
240-446-6782
Mission Statement: Maryland Shall Issue is an all volunteer, non-partisan effort dedicated to the preservation and advancement of all gunowners' rights in Maryland, with a primary goal of CCW reform to allow all law-abiding citizens the right to carry a concealed weapon; and to the education of the community to the awareness that 'shall issue' laws have, in all cases, resulted in decreased rates of violent crime.