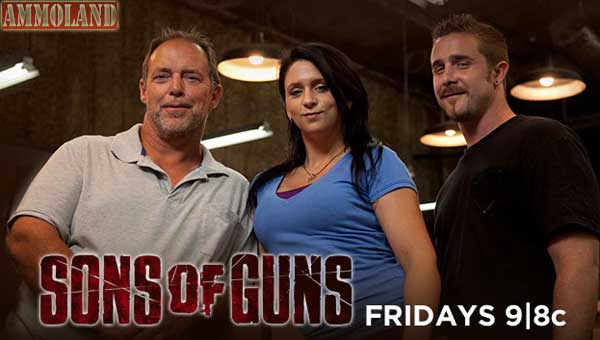 Silver Spring, MD –-(Ammoland.com)-  This week's episode of Sons of Guns will not disappoint viewers! Joe's overextended on a batch of 870's for R&D so Will must try to figure out how he can turn it into a profit.
Meanwhile, tired of waiting for Stephanie to find some more SOCOM barrels so they can get paid, Will dives deep into his own gun build, bringing to life a Frankengun from the scraps left in the shop.
When Will finds out from Flem that Vince has something they need, it just seems to be too much of a coincidence for Will to ignore.
He is suspicious of this most recent turn of events, and decides to meet with Vince face to face to offer him a deal – leading to a shocking confrontation! It's a must must–see episode of Sons of Guns this week, only on Discovery Channel at 9PM ET/PT.
About Discovery Channel 
Discovery Channel is dedicated to creating the highest quality non-fiction content that informs and entertains its consumers about the world in all its wonder, diversity and amazement. The network, which is distributed to 100.8 million U.S. homes, can be seen in 210 countries and territories, offering a signature mix of compelling, high-end production values and vivid cinematography across genres including, science and technology, exploration, adventure, history and in-depth, behind-the-scenes glimpses at the people, places and organizations that shape and share our world. For more information, please visit www.discovery.com.
About Discovery Communications 
Discovery Communications (Nasdaq: DISCA, DISCB, DISCK) is the world's #1 nonfiction media company reaching more than 1.8 billion cumulative subscribers in 209 countries and territories. Discovery is dedicated to satisfying curiosity through 149 worldwide television networks, led by Discovery Channel, TLC, Animal Planet, Science and Investigation Discovery, as well as U.S. joint venture networks OWN: Oprah Winfrey Network, The Hub and 3net, the first 24-hour 3D network. Discovery also is a leading provider of educational products and services to schools and owns and operates a diversified portfolio of digital media services, including Revision3. For more information, please visit www.discoverycommunications.com.