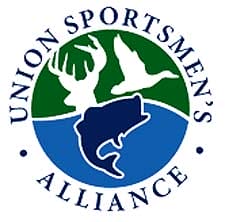 Nashville, TN –-(Ammoland.com)- Over the past five years, the Union Sportsmen's Alliance has seen consistent growth and progress in its ability to carry out its conservation mission, thanks to strengthened union relationships and the support of corporate partnerships.
  Benjamin Franklin once said, "Without continual growth and progress, such words as improvement, achievement, and success have no meaning."
USA has been fortunate enough to experience all of those words, in addition to continual growth.  Most recently, USA has welcomed three staff members into the positions of Administrative Assistant to the Conservation Dinner Program, Conservation Dinner Coordinator, and Marketing and Public Relations Coordinator.
USA Executive Director Fred Myers, stated, "I am very excited and encouraged by the amount of support we have been shown by our unions and corporate sponsors.  Each year we are able to make an even deeper impact on conservation and attract new talent to our efforts."
Becky McIntosh has accepted the role of Administrative Assistant to the Conservation Dinner Program.  She comes to the USA from the country music industry, working previously as the Creative Director with Luna Chica Publishing.  Her extensive background in office management, marketing and graphic design will be critical in assisting in the continued growth of the Conservation Dinners.  Becky can be reached at [email protected]
Accepting the role of Conservation Dinner Coordinator is Kevin Grubbs.  His conservation background began in 2004 with the National Wild Turkey Federation where he served as the Senior Regional Director for the state of Virginia and the Region Field Supervisor for Virginia, West Virginia, Maryland, New Jersey and Delaware.  He was also responsible for fundraising through the Hunting Heritage Banquet program and facilitating support for various NWTF's outreach programs.  As an avid hunter and fisherman, he has an extreme passion and respect for conservation.  Kevin can be reached at [email protected]
Becca Potter has accepted the position of Marketing and Public Relations Coordinator. She has more than five years of experience in marketing and advertising roles at several national companies and a specific background in radio, television, print, and digital media sales. As the Marketing and Public Relations Coordinator, Becca is responsible for the overall development and execution of USA's marketing efforts.  She can be reached at [email protected]
The Union Sportsmen's Alliance (USA) is a union-dedicated outdoor organization whose members hunt, fish, shoot and volunteer their skills for conservation. The USA is uniting the union community to expand and improve hunting and fishing access and wildlife habitat while passing on our national outdoor heritage. For more information, visit www.unionsportsmen.org  or www.facebook.com/unionsportsmen.