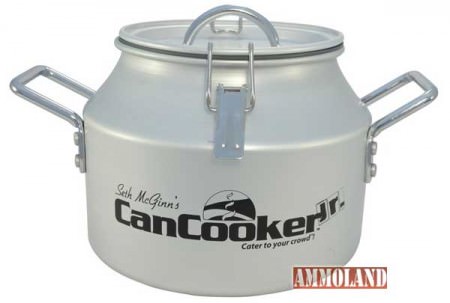 FREMONT, Neb. – -(Ammoland.com)- CanCooker, the company that re-invented the old-fashioned-creamery-style can as a portable convection oven that steam-cooks a complete high-quality meal in just an hour, is pleased to announce that both the original 4-gallon CanCooker and the new 2-gallon CanCooker Jr. are in stock once again.
"Demand for the CanCooker and the CanCooker Jr. has been absolutely overwhelming, and orders have far outpaced our initial production projections," said David Langston, vice president of sales & marketing.

"We did not anticipate the sales that we have had in the first half of this year, and we deeply apologize for anyone that has been patiently waiting for their CanCooker. I am happy to report that we have increased production dramatically, and the wait is over."
To make the CanCooker experience even easier than ever, CanCooker is now offering a downloadable recipe book, A Collection of Great Ideas, free of charge. Filled with delicious, easy-to-follow recipes that the whole family will enjoy, the CanCooker recipe book offers everything from breakfast to dinner to dessert. There is nothing you can't make easy and delicious in your CanCooker. Download your free CanCooker A Collection of Great Ideas recipe book at www.cancooker.com.
CanCookers can be purchased at retailers nationwide or conveniently online at www.cancooker.com.
Headquartered in Fremont, NE, CanCooker was originally introduced in 2009. It is a new, unique outdoor cooking device that allows you to cook a lot of food without a lot of work. CanCooker makes a complete meal for large groups in about an hour and can work with any heat source, inside or out—from the stovetop to the grill to the campfire. For additional information, write to Seth McGinn's CanCooker, 925 West 6th St., Fremont, NE 68025; call toll-free 877-844-2772; or visit www.cancooker.com. Visit us on Facebook www.facebook.com/CanCooker.com.