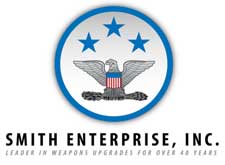 TEMPE, Ariz., –-(Ammoland.com)- Smith Enterprise received a purchase order from the Navy Seals for 400 each of their premium Vortex Flash Hiders for the MK48 Machine Gun.
The MK48 Vortex is Sound Suppressor capable and blocks over 95% of the flash.
The version of the Vortex purchased by the Navy Seals is the G6A3 flash hider that includes the new external ten-pitch radial bottom helical grooves, which aid in the easy removal of the Wind Talker Sound Suppressor.
The contract (H92240-13-P-0250) awarded was the first contract award after many years of rigorous testing of the MK48 Vortex Flash Hider by Crane Naval Surface Warfare Center.  Crane was so impressed with the MK48, it awarded Smith Enterprise a National Stock Number (1005-01-600-8577) and also safety certified the device.  Crane Naval Surface Warfare Center is the contracting division for the Navy Seals.
Crane's original intent was to approve the best flash hider that will later be used as a mounting platform for Smith Enterprise MK48 Wind Talker Sound Suppressor.  Smith Enterprise previously bid on a Sound Suppressor solicitation for the MK48 in 2010 and was beat by FN, who has no Sound Suppressor experience.  FN has yet to produce its first Sound Suppressor for the Navy and is still attempting to make an integral barrel Sound Suppressor – something that the military has tried to make for decades without success.  Smith Enterprise is hopeful that the Navy Seals see the value in Smith's products and will follow up with a Sound Suppressor purchase order.  The Smith Enterprise Sound Suppressor for the MK48 is complete with testing and is ready for delivery.
Smith Enterprise also makes a Blank Firing Adapter for the MK48 Machine Gun, which is a unique advantage for the Navy Seals should they want to train with blanks.
The Flash Hiders, Sound Suppressors, and BFAs can all be purchased on GSA Schedule GS-07F-0144X.
Combat Proven!
Sincerely,
John Bainer
USMC Retired
Smith Enterprise, Inc.