Michigan's Three Largest Firearm Rights Groups Collaborate To Stage A March At The State Capitol Building To Lobby Lawmakers For Expansion Of Gun Freedoms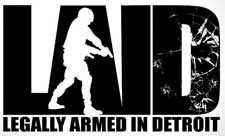 Lansing, Michigan – -(Ammoland.com)- On the morning of October 9th at 9:30 a.m., three of Michigan's largest firearms rights organizations collaborated and jointly staged a march upon the state's Capitol Building in Lansing, Michigan.
The organizing groups responsible for the peaceful mile-long march dubbed "The Second Amendment March" are listed as the following: Michigan Coalition For Responsible Gun Owners (MCRGO), Michigan Gun Owners (MGO), and Michigan Open Carry (MOC). In all, over 200 firearms rights advocates came from all across the state to participate in the activity.
The intent for the march was to show support for desired pro gun laws to expand firearm freedom for gun owners in the state of Michigan. Immediately after the march, all participants congregated on the grounds of the Michigan Capitol Building to speak with members of the media which were present and to also lookup their respective elected representatives in both the Michigan House and the Michigan Senate. Time was then allotted for participants to visit and lobby their respective state Representative and state Senator for more firearm friendly legislation.
Fall 2013 Top Legislative Priorities Identified By Michigan's Gun Groups:
Eliminate Pistol Free Zones

Concealed Pistol License Reform

Pistol Registry Protections

Legalization of Short Barreled Long Guns
The event drew a decent amount of media coverage, which is helpful when attempting to get the word out to other like-minded people across the state about what the gun groups are doing and to encourage others to write and call their respective representatives. Of course, the fact that many of the event's participants were lawfully and openly armed with either a handgun or a long gun or both helped to increase the news worthiness of the story. For the record, it is legal to openly bear arms at the Michigan Capitol Building.
Stories about the march appeared in the Lansing State Journal, MLive, WILX, ABC12, and Fox2 Detroit News. Overall, media coverage was fair in its treatment of the march and the lobbying activity except for the hatchet job done by a Detroit based reporter who renamed the event as "Open Carry Day" all by himself and managed to find a group of visiting tourists from the state of New York, of all places, and asked them what they thought about guns being present at the state Capitol Building.
About:
Rick Ector is a National Rifle Association credentialed Firearms Trainer, who provides Michigan CCW Class training in Detroit for students at his firearms school – Rick's Firearm Academy of Detroit.
Ector is a recognized expert in firearm safety and has been featured extensively in the national and local media: Associated Press, NRAnews, Gun Digest, The Politics Daily, Fox News Detroit, The Detroit News, WJLB, WGPR and the UrbanShooterPodcast.