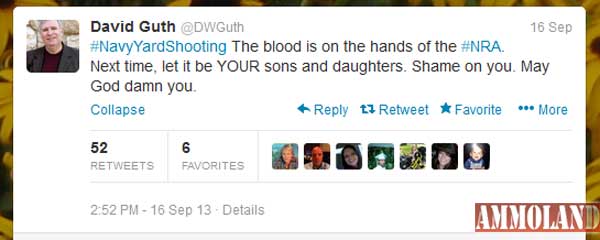 Charlotte, NC –-(Ammoland.com)- Last month, we reported on the case of University of Kansas journalism professor David Guth who, in the wake of the atrocity at the Navy Yard in Washington, D.C., singled out the NRA as the cause of the violence and offered what he considered just recompense.
"The blood is on the hands of the NRA," he wrote in a tweet on his personal account.  "Next time, let it be YOUR sons and daughters.  Shame on you.  May God damn you."
When contacted by Campus Reform and given an opportunity for further comment or perhaps to offer a retraction or some context for apparently wishing death on the children of those associated with the NRA, Guth's response was:
"Hell no, hell no, I do not regret that Tweet.  I don't take it back one bit."  "God's justice takes many forms," he added in another tweet.
The University of Kansas subsequently suspended Guth for his comments, saying;
"In order to prevent disruptions to the learning environment for students, the School of Journalism and the university, I have directed Provost Jeffrey Vitter to place Associate Professor Guth on indefinite administrative leave pending a review of the entire situation."
The university released an additional statement condemning Guth's tweet, saying;
"The contents of Professor Guth's tweet were repugnant and in no way represent the views or opinions of the University of Kansas.  [I]t is truly disgraceful that these views were expressed in such a callous and uncaring way.  We expect all members of the university community to engage in civil discourse and not make inflammatory and offensive comment."
An article in The Republic newspaper reports that the chancellor of the University of Kansas announced on Thursday that Guth will not return to teaching for the rest of the semester.  University Chancellor Bernadette Gray-Little issued a press release stating that Guth would instead be assigned to "other duties" and that he would take a planned sabbatical in the spring.
According to the news article, the university's decision to keep Guth out of the classroom this semester was based on the recommendation of a seven-member committee the chancellor assembled to determine whether Guth could return to teaching without disrupting the "learning environment," according to the university's press release.
The article went on to note that some legislators have called for the university to terminate Guth and have suggested they would vote against any university spending measure in 2014 if he remained on the faculty.
About:
Established in 1975, the Institute for Legislative Action (ILA) is the "lobbying" arm of the National Rifle Association of America. ILA is responsible for preserving the right of all law-abiding individuals in the legislative, political, and legal arenas, to purchase, possess and use firearms for legitimate purposes as guaranteed by the Second Amendment to the U.S. Constitution. Visit: www.nra.org