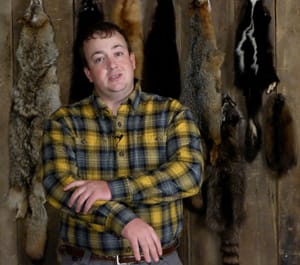 Quality *****
Reliability ****
Price/Value ****
Referibility ****

Elsberry, MO –-(Ammoland.com)-  When you put on a flannel shirt, you probably start feeling like a lumber jack and you need to grow a beard, eat pancakes and cut down some trees; am I right?
To fulfill your flannel shirt needs, Duluth Trading Company has a wide range of good looking and functional flannel shirts in their Free Swingin' Flannel Shirt line.
The Free Swingin' Flannel Shirts have some nice functional features. For starters, the shirts have Armpit Gussets. This allows for free movement while wearing the shirt when you are swingin' an ax or giving a high five. The Armpit Gusset gives you more movement and prevents the shirts from pulling out of the waistband. Duluth's Flannel Shirts also have a bi-swing back to help prevent any seam busting and has large buttons. The shirts also have nice large front pockets that have a spot for your cell phone and pen.
The Men's Crosscut Flannel shirt is the perfect year round flannel. This shirt is made from 60% cotton and 40% moisture wicking polyester. But don't worry, it still feels like you are wearing a flannel shirt. The fabric is also 25% lighter than Duluth's regular flannel. This is the flannel that I wear year round because it's comfortable and isn't a hot material.
For you traditional flannel enthusiasts, the Free Swingin' Plaid Flannel Shirt from Duluth is made from 5.6-oz 100% cotton that is brushed twice for a super soft feel. I have owned one of these shirts for about a year now and when I first got it I was a little worried about how it would hold up over several washes. Unlike other cotton button-up shirts I have, the Duluth Flannel kept its color after many washes and still looks great. The fabric is a little warm (well ya, it is a flannel shirt!) so I don't wear it in the summer time but it's a great Fall and Winter shirt.
When the weather really gets cold but work still needs to be done outside, the Burlyweight Free Swingin' Flannel is the shirt for you. This shirt is made from 8-oz 100% cotton flannel. It basically turns you into a heater. This is a good shirt for those cold days of chopping lumber.
If you need even more warmth from comfort that only flannel can bring, the Duluth Men's Flapjack Flannel Shirt Jac has an 8-oz. 100% cotton flannel outside and 200-gram 100% polyester fleece inside. The Flapjack Flannel Shirt Jac has large snaps on the front and cuffs which are easy to use when you can barely feel your hands. I rocked this item while cruising on the 4-wheeler the other day and it kept me warm and the wind didn't cut through it.
All the flannel offerings from Duluth Trading Company are available in a wide range of sizes and colors. Check them out at duluthtrading.com
**Quality**: As with other Duluth Trading Company products, these shirts are very well made and thought out.
**Reliability**: From the woods to the board room these shirts are long lasting and don't easily fade in the wash.
**Price/Value**: Shirts range from $44.50 to $54.50 and the Flapjack Flannel Shirt Jac sells for $64.50; maybe a little expensive if you are using it for just a work shirt but these products have some nice features.
**Referability**: For the inner Lumberjack in us all.