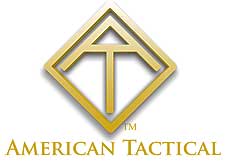 ROCHESTER, NY –-(Ammoland.com)- American Tactical Imports is proud to introduce the TAC-SX2 and the TAC-PX2 tactical 12-gauge shotguns.
ATI is now offering both models in 12-gauge only. Both the TAC-SX2 and the TAC-PX2 models have 4140 chrome moly steel 18.5" barrels that are chrome lined on the inside.
Both models come blued, as standard in tactical shotguns. The TAC-SX2 is a semi-automatic 12-gauge and carries an MSRP of $379.95, while the TAC-PX2 is a pump-action 12-gauge and has an MSRP of $299.95.
"We are very proud to offer such high-quality tactical shotguns at such an affordable price," says Joe Calabro, Director of Marketing at American Tactical.

"The quality and price-point surpasses any other tactical shotgun lines on the market today, making this the perfect product for budget conscious LE departments as well as a great choice for home defense."
For more information and to see the full lineup of American Tactical Imports products, please visit www.americantactical.us