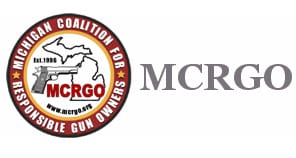 Michigan – -(Ammoland.com)- 2013 has been a remarkable year for gun rights.
Though we were on the defensive for much of the year, we came away larger & stronger because of it.
Nationally, the defeat of federal gun control legislation, the Zimmerman verdict and the survival of all states' Stand Your Ground laws, the adoption of shall-issue in Illinois, and the Colorado recalls of gun control legislators dominated the news.
In Michigan, we saw the expansion of open carry culminating in a final victory against Capital Area District Library, the Second Amendment Marches and the new alliance of Michigan gun groups. For Michigan Coalition For Responsible Gun Owners (MCRGO), 2013 resulted in a 29% growth in paid membership and expansion of MCRGO/Facebook support from 5,300 to 16,570 fans and a 24% increase in the total number of active CPLs statewide.
We've lost some valuable allies along the way with the passing of John Jordan and Jason Means but have gained many new ones.
MCRGO would like to thank all of you for your support over the past year! As we start a new year, let's take a moment to recommit to passing on the flame of liberty in the year ahead through positive action in promoting the individual right to keep and bear arms. Share with others why you own firearms, take them shooting for their first time and discuss the reasons for your decision to carry outside the home and the responsibilities that comes with that decision. Our Strength Is In Our Membership!
In addition to accomplishing our primary objective, the "shall-issue" law for concealed carry, MCRGO has successfully promoted dozens of pro firearms laws. We have been successful and we have the momentum. But there is still a lot of work to be done and it's imperative that we do not allow ourselves to get complacent or lazy. As with any other organization our strength is in our membership and here's how you can help:
Join today and become part of a team that gets things done in our Capitol.
If you're a current member, THANK YOU for your membership and support.
If your membership is about to expire, or has expired, please renew it now.
Recruit new members (family, friends, or co-workers).
And remember to talk — people value your opinions. If they want to help protect their gun rights, there is no better pro-gun organization in Michigan. Period.
About:
The Michigan Coalition for Responsible Gun Owners is a non-profit, non-partisan organization. Formed from just eight people in 1996, we now have thousands of members and numerous affiliated clubs across the state. We're growing larger and more effective every day.
Our mission statement is: "Promoting safe use and ownership of firearms through education, litigation, and legislation" Visit: www.mcrgo.org