Six New Bolt Actions Featuring TLS Tool-less Locking System.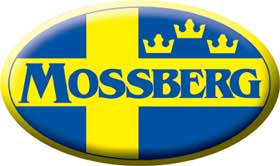 North Haven, CT –-(Ammoland.com)- O.F. Mossberg & Sons, Inc. introduced the MVP Series FLEX rifle in 2013, combining two highly-innovative, patented and patent-pending designs – a bolt-action engineered to accept and reliably feed from AR-style magazines and the unparalleled FLEX TLS System of modular accessories.
Now the highly-versatile Mossberg MVP FLEX bolt-action rifle is available in 7.62mm NATO (308 Win) with choice of 18 ½-inch medium bull barrel (optional black or tan textured stock) or 20-inch standard contour barrel.
A new 5.56mm NATO (223 Rem) offering with textured tan stock also joins the line-up. The MVP Series patent-pending bolt designs allow 7.62mm NATO (308 Win) chambered rifles to accept both M1A/M14 AND AR10-style magazines and 5.56mm NATO (223 Rem) rifles to accept AR15-style magazines.
The Mossberg MVP Series, first introduced in 2011, delivered an engineering breakthrough with the 5.56mm MVP's patent-pending Drop-Push™ hinged bolt design which allowed use of AR15-style magazines in this bolt-action platform. A heavy-barreled, benchrest-style Varmint rifle was the first in this ground-breaking series; soon followed by the more compact, easy-to-carry Predator model in 2012.  The series was further expanded in 2013 to include the tactical-ready MVP Patrol and modular MVP FLEX rifle and accessory system. Now a second patent-pending bolt design allows the MVP Series rifles to be offered in the widely-accepted 7.62mm NATO (308 Win) chambering.
Adding the Mossberg FLEX TLS System to its family of MVP Series allows the user to remove and remount the rifle's stock and recoil pads without tools by simply lifting or pushing the TLS latches. And with multiple FLEX accessory stocks and recoil pads available, you can adapt your rifle for fit and application.
Standard features on the MVP FLEX rifles include Mossberg's patented Mossberg LBA™ (Lightning Bolt Action™) Adjustable Trigger System which is user-adjustable from 2 to 7 pounds; fluted, button-rifled barrel with 11-degree tapered muzzle crown; FLEX 6-position tactical stock with pistol grip; coarse, textured forend with stippling for a more positive grip; durable matte blue finish on exposed metalwork; factory-installed, receiver-mounted Picatinny rail; distinctive spiral-fluted bolt; front and rear sling swivel studs; and 10-round capacity magazine.

MVP FLEX Bolt-Action 18 ½-Inch Medium Bull Rifles – New for 2014, a 5.56mm NATO (223 Rem) with 1:9 twist rate and textured tan stock (27760) and three 7.62mm NATO (308 Win) models all with a 1:10 twist rate; textured tan stock (27761), textured black stock (27751) and a MVP FLEX Scoped Combo with a factory-mounted, 3-9x32mm variable riflescope featuring an illuminated reticle (27753).  MSRP: $966 – $1142
MVP FLEX Bolt-Action 20-Inch Sporter Rifles – Available in 7.62mm NATO (308 Win) with 1:10 twist rate and textured black stock (27750) and in a MVP FLEX Scoped Combo featuring factory-mounted, 3-9x32mm variable riflescope with illuminated reticle (27752). MSRP: $966 – $1142
To see the complete line of Mossberg MVP Series bolt-action rifles, please visit our web site at www.mossberg.com or your local Mossberg dealer.
About O.F. Mossberg & Sons, Inc.
Founded in 1919, O.F. Mossberg & Sons, Inc. is the oldest family-owned firearms manufacturer in America, and is the largest pump-action shotgun manufacturer in the world. Leading the way with over 100 design and utility patents to its credit, and standing as the first ISO 9001 Certified long-gun manufacturer, Mossberg is considered to be one of the most innovative firearms manufacturers in U.S. History. For more information on commercial, special purpose, law enforcement and military shotguns, rifles and accessories, please visit their website at www.mossberg.com.