Manasquan, NJ –-(Ammoland.com)- As NRA magazines containing ballots for the 2014 NRA Board of Directors Election begin arriving in people's mail boxes AmmoLand Shooting Sports News has begun to publish letters of support requests from this years current ballot candidates.
(NRA members, if you got a ballot, you're eligible to vote if you didn't you aren't  and need to upgrade your membership to more than five years or better yet, Life Member).
The following is a statement from Peter 'Jay' Printz who is running for re-election. Please take some time to read his biography and add his name for consideration as one of this years ballot choices.
Peter 'Jay' Printz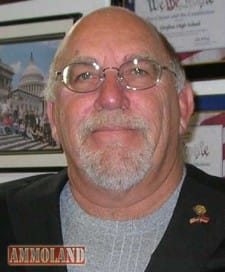 Gentlemen; I am writing at the behest of Lt. Col. Bob Brown of SOF magazine. He has endorsed me for re-election to the NRA Board and suggested I write to your readers with regards to the 2014 NRA Board Election or re-election in my case.
First, I will be on the ballot as Peter "Jay" Printz.
I am a retired Sheriff/Coroner of Ravalli County Montana. I am the Printz half of the Printz/Mack decision in the successful U.S. Supreme Court challenge to the Brady Law. I am a former U.S. Marine having served from 1963 to 1967, with a Vietnam tour in 1965-66.
I was first elected to the NRA Board in 1998 and have served continuously since then. I would like to continue serving and request eligible NRA members cast their ballot for me.
I want to thank you in advance for your consideration.
Sincerely,
Jay Printz, Sheriff (ret.)