Break Barrel Airguns Get More Speed, More Power, and Shoots More Smoothly.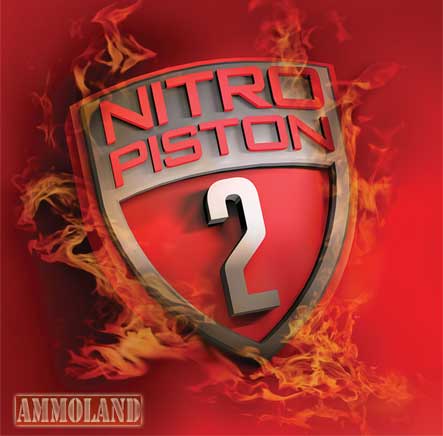 ROCHESTER, NY –-(Ammoland.com)- Crosman Corporation today redefined break barrel air rifles with the introduction of the Nitro Piston 2 system, an all-new powerplant that generates 15 percent more speed, 35 percent more power, requires up to ten pounds less cocking force, and features an upgraded trigger.
Nitro Piston 2 features new patent pending technologies that minimize vibration and recoil, making airguns equipped with the system more accurate than ever.
"Nitro Piston 2 is a completely new system that changes the game for break barrel airgun performance," said Phil Dolci, Crosman President and CEO. "Nitro Piston 2 shoots 55 percent faster than coiled spring powered airguns and has double the effective hunting range of simple gas piston powered guns. And we are proud to be building Nitro Piston 2 in America, right here in our Bloomfield, New York facility."
Nitro Piston 2 is engineered to be more energy efficient without adding extra weight. The system includes unique patent pending components that work in unison to direct the piston's energy.  New Tail Guides keep the piston centered and eliminate the energy-robbing friction associated with metal-to-metal contact, while the Recoil Arrest feature functions as a brake to reduce vibration and virtually eliminates secondary recoil.
According to Crosman Senior Product Manager, Linda Mosack, "The Benjamin Trail series is the first to be remade with the incredible Nitro Piston 2 system and will be available in April 2014. By the end of the year, nearly all our premier break barrels will be Nitro Piston 2 guns."
"Crosman led the way in break barrel performance with the original Nitro Piston. Just when competitors thought they had closed the performance gap with their own gas springs, Nitro Piston 2 shows how far ahead Crosman is when it comes to break barrel technology," added Mosack.
In conjunction with the new powerplant, Crosman unveiled the Clean Break Trigger (CBT), an all-new two-stage trigger system that breaks cleaner and pulls more smoothly while being fully adjustable for poundage and stage transition. "Unleash the power of Nitro Piston 2 with the best break barrel trigger we've ever made," said Dolci.  The new CBT will be included with the Nitro Piston 2 in the Benjamin Trail rifles and additional premier break barrel airguns.
The new Benjamin Trail rifles are available in .177 and .22 and feature a rifled steel barrel, industry leading sound suppression, sling mounts, integrated Picatinny rail and include a CenterPoint® 3-9×32 mm scope with mounts.
The .22 caliber shoots up to 1200 feet per second (fps) with 26 foot pounds of energy (fpe) and is capable for turkeys and fox up to 40 yards. The .22 is available with a hardwood stock or a synthetic stock and has an MSRP of $350.  It is also available with a Realtree® Xtra camouflage finish with an MSRP of $380.
The .177 caliber has velocities up to an astounding 1400 fps with 21 fpe. It is suitable for target shooting and is effective on rabbits up to 40 yards and squirrels at 60 yards. The .177 is available with a synthetic stock and has an MSRP of $350.
For additional information on Nitro Piston 2, visit www.crosman.com.
For up-to-the-minute news from Crosman Corporation, follow us on Twitter (Twitter.com/crosmancorp) and Facebook (Facebook.com/crosmancorp).
For over 90 years Crosman has led the world in the design and manufacture of airguns and airgun ammunition, along with airsoft, optics and shooting sports accessories. Headquartered in Bloomfield, N.Y., the company sells its products worldwide under the Crosman®, Benjamin®, CenterPoint®, Game Face® and Undead Apocalypse® brands. For more information about any of these brands or products, please contact Crosman Public Relations at (800) 7-AIRGUN or visit crosman.com.