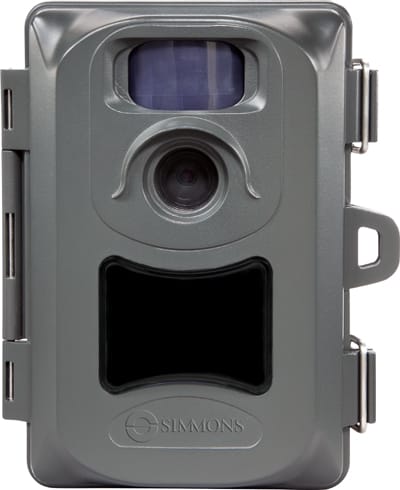 Overland Park,   Kan. — (AmmoLand.com)  Simmons, a leader in high-quality, high-value sports optics for more than 25 years, has introduced its first trail camera featuring black LED night vision technology.
Hunters can now covertly monitor game and land activity around the clock with the new Whitetail Blackout trail camera.
The new Simmons Whitetail Blackout features 18 black LEDs with a 30-foot flash range, and the passive infrared (PIR) sensor detects motion and animal activity at up to 40 feet away. With a dependable six-month battery life and a fast 1.2-second trigger speed, the Whitetail Blackout has plenty of features and capabilities for serious scouting.
With a 5MP camera that captures full-color high resolution daytime images and high-quality black and white nighttime images, the Simmons Whitetail Blackout ensures hunters don't miss a minute of action in the field. In addition to crisp, clear photos, the trail camera gives hunters the ability to capture VGA video clips either day or night.
Date, time and moon stamps are displayed on every image and video, giving hunters valuable scouting information each time the camera is triggered. A 1/4-20" socket on the base of the camera and an adjustable web belt make it easy to attach the camera to a tree or bracket. For added security, the camera is also cable-lock compatible.
The Simmons Whitetail Blackout Trail Cam is compatible with up to a 32 GB SD card and has an estimated retail price of $129.99. To learn more about Simmons and its complete line of sports optics, visit www.simmonsoptics.com or call 1-800-423-3537.