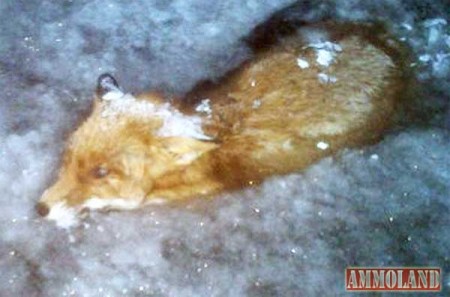 United Kingdom –-(Ammoland.com)- The headlines this week: Frozen wildlife, Sochi biathlon news, and top MFH retires
The polar vortex weather system, hanging over the Canada, USA and northern Europe, has literally been freezing wildlife solid.
Photographs from Norway show fish iced as predators drive them towards the seashore; an ice skater found a fox, frozen as it swam; and a moose fell through the ice into a lake and drowned. For pictures, go to www.dailymail.co.uk/news/article-2545364/Glacier-fox-Animal-latest-freeze-solid-Scandinavias-lakes-following-fish-moose.html
After 25 years as joint-masters of the Duke of Buccleuch's Foxhounds, Trevor and Sally Adams step down at the end of this season. A testimonial day's hunting and evening party will be held on 1 March to celebrate the work they have done for the hunt and hunts around Scotland. Trevor was the leading spokesman for foxhunting as the Scottish Government tried to ban it and he was also the architect of the MFHA Scottish Protocol that all Scottish packs now adhere to.
Veterans charity Help For Heroes sent 23 budding countryside enthusiasts to Wiltshire for an introduction to countrysports. Supported by the National Gamekeepers' Organisation, they enjoyed talks and a visit to Barney Stratton's game shoot at Stockton in Wiltshire, where they learnt about beating and picking-up, and later in the day tried shooting at a local clay ground
As the Winter Olympics gets underway in Sochi, look out for the biathlon events, which involve skiing and shooting. It will be the last Olympics for Norway's Ole Einar Bjorndalen, aged 40. Already the most successful biathlete in Olympic history with 11 medals, he will be looking to add to his six golds in Sochi in what will be his sixth Olympics. Meanwhile, a new sponsor has secured British biathlon's future. Aspen Healthcare Solutions has put up what is believed to be a six-figure sum after the British Army cut its contribution. There are biathlon events almost every day from 8th to 22nd February.
Eley Hawk has brought out two new shot shells. The Eley Amber, promoted by BBC Young Sports Personality of the Year Amber Hill, is specifically designed for female shooters, still fast but with a reduced recoil system. The Eley Rebel is a 21-gram and 24-gram load in 12-bore that also offers a lower recoil – but doesn't look so girly.
German animal rights activists are trying to get a local conservation officer fired because in his spare time he went elephant hunting. Udo Wedekind shot the animal during a hunting trip in the Botswana last year. He then posed for two pictures with its carcase, which he shared with friends in Germany.
There is a new American civil war over ducks. Wildfowlers in the southern state of Louisiana are blaming this year's poor duck season on duckshooting interests in the north and Midwest who grow crops and then flood fields, providing the birds with food and local hunters with good shooting – but holding back the migration. There are even accusations that duckhunting body Ducks Unlimited is heating ponds in order to hold duck. Ducks Unlimited has hit back, saying that although flooding goes on, it makes no difference to most migrating birds, and that the organisation's southern accusers have been watching too many videos on YouTube.
About Fieldsports Channel TV: Fieldsports Channel aims to provide the best hunting, shooting and fishing via a free-to-watch weekly TV show on YouTube. Visit https://www.youtube.com/fieldsportschannel