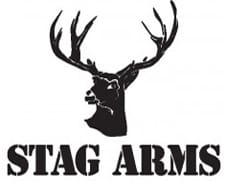 New Britain, CT –-(Ammoland.com)- Team Stag Arms competitor Jesse Tischauser took center stage this past weekend at the 3-Gun Nation Pro Series Tour held in Owasso, Oklahoma and clinched the first ever Stage 6 finale "shoot-off" – walking away with a $5,000 grand prize from match sponsor STAG ARMS.
Tischauser placed 10th overall in the Men's Division of the event and thus qualified for the Stage 6 finale "shoot-off".  A new format for 2014, the competitors overall scores were zeroed out and each shooter was given one run to claim the grand prize.
Stage 6 was the most formidable 3GN finale stage to date, with competitors covering nearly 50 yards of fire from the start box to the final position along with 12 offhand rifle steel, 12 shotgun clays in the move and 18 pieces of pistol steel to end the course.  Setting the tone right out of the gate, Tischauser laid down a solid run of 32.74.
Assuming it would take a 30 or 31 to take the stage, Tischauser nevertheless did enough to force his opponents to bring their "A" game.  One-by-one, the field couldn't measure up.  Tischauser survived the Pro Series gauntlet to become the first winner ever in the shoot-off style finale stage.
The U.S. Shooting Academy in Owassa, OK will be home to all five of the 3GN Pro Series matches throughout 2014, including the FNH USA 3-Gun Nation National Championship this October.  All Pro Series events are free and open to the public and the public is encouraged to attend.  In addition, the 3-Gun Nation Pro Series is televised on the Sportsman Channel, Pursuit Channel, and Blaze TV.  Episodes for the 2014 season will begin airing in July and additional footage can be found on 3GunNation.com.