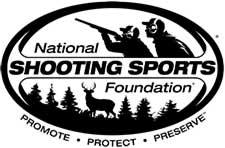 NEWTOWN, Conn –-(Ammoland.com)- Executives from many of the nation's firearms companies are in Washington, D.C. this week for the seventh annual congressional "fly-in" sponsored by the National Shooting Sports Foundation (NSSF), the trade association for the firearms and ammunition industry.
The executives are meeting with Members of both houses of Congress on such matters as the $37.7 billion national economic impact of the firearms industry, the need for revenue-neutral measures to allow the Bureau of Alcohol, Tobacco, Firearms and Explosives to reduce the currently lengthy backlogs in form-processing times, and the opportunity to improve the provision of safety information and gun locks through law enforcement agencies across the country by re-starting funding of Project ChildSafe.
"America's firearms and ammunition industry has been central to our citizens' heritage of self-reliance, enjoyment of outdoor traditions and even our freedoms," said NSSF Senior Vice President and General Counsel Lawrence G. Keane.

"We always welcome the opportunity to speak with our elected representatives to help ensure that the economic contribution of our industry members is understood and that we continue to work on a bi-partisan basis to help ensure that our members can continue to engage in the lawful commerce, grow their businesses and create even more good-paying jobs here in America."

Speaking about the 2013 NSSF Congressional Fly-In, Wayne Weber, president of Heckler & Koch USA, observed, "It is important to be here so that our voice is heard because we represent a large contingent of Second Amendment supporters from a manufacturing and retailer standpoint, as well as all the individual citizens out there."
About NSSF
The National Shooting Sports Foundation is the trade association for the firearms industry. Its mission is to promote, protect and preserve hunting and the shooting sports. Formed in 1961, NSSF has a membership of more than 10,000 manufacturers, distributors, firearms retailers, shooting ranges, sportsmen's organizations and publishers. For more information, log on to www.nssf.org.